We all love a good phone case or tablet cover right? There is nothing better than having an official case on your device as well right? Even when they are ridiculously expensive right? Personally I'd say no, sometimes manufacturers take their official accessories a little too seriously and end up overpricing them. The official Nexus accessories are a prime example, some costing over £20 and barely being any different from the cheaper alternatives on eBay.
Well Google seem to have realised this and are reducing the prices for a limited time. My rather cynical opinion is that Google have got surplus as no one bought the accessories due to the initial price. But as I say that's just my opinion.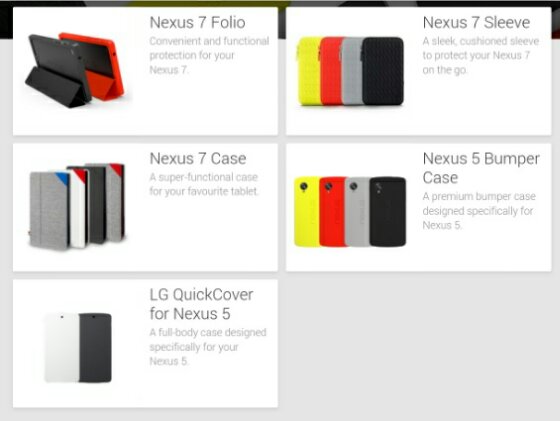 These cases still seem a little expensive but each to their own, if you fancy an official case just head over to the Play Store Link below and have fun.
The discounted prices are as follows:
– Nexus 5 Bumper case – £18.74
– Nexus 5 LG QuickCover case – £26.24
– Nexus 7 case – £26.24
– Nexus 7 Folio case – £26.24
– Nexus 7 Sleeve – £14.99
Oh and don't forget the delivery charge. Which is £5.99 on top.
Source – Play Store