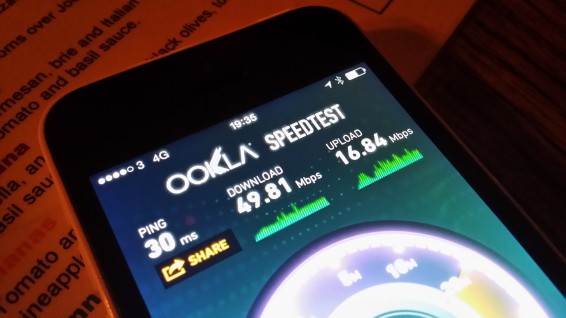 Three might be the last of the UK networks launching 4G, but many people have chosen to wait for them. It's especially due to the fact 4G on Three costs no more than your existing deal and you don't need to swap any plans or SIMs. Also, you still get the added benefit of AYCE data including tethering if you are on The One Plan.
Three kindly invited me to a social event in London today to experience 4G on their network before everyone else gets 'switched on' over the next month or so.
Three are running their 4G network on the 1800Mhz spectrum they acquired from EE. They've an allowance of 15Mhz which should see some decent average speeds, but they also purchased some all-important 800Mhz spectrum in the auctions back in 2013. This will be great for better indoor coverage.
I got chance to test out the new Three 4G network and have captured the results below. As you can see, I achieved nearly 50Mbps, albeit on a very empty cell.
[yframe url='http://www.youtube.com/watch?v=p6jGR17IYmU']
[yframe url='http://www.youtube.com/watch?v=cHnqRm7-2SU']
[yframe url='http://www.youtube.com/watch?v=6XdRxoCM3Nw']
[yframe url='http://www.youtube.com/watch?v=ipQs18TBbdY']
All these tests were performed around 7-8PM Soho and of course there will be limited people on the masts for now, but what it does show is the network getting some pretty awesome speeds.
Consider there were 5 devices running speed tests all on the same mast all on the same server at the same time and speeds were still 30Mbps+. I was constantly getting 45Mbps or over on an iPhone 5C.
For some reason none of us could work out the Nexus 5 was struggling to hit 20Mbps even though it was using the same speed test servers as the other phones that were getting 40Mbps and over.
Rollout of 4G has already started and we were told by 'mid Feb'. Everyone should be 4G enabled and able to get the service when in a 4G area. The closer to a 4G location you live, the sooner your SIM update to enable 4G.
Whilst this was just one location indoors, we were promised a 4G enabled SIM will be in the post by next week. This means we can go out and about around London to see how speeds are when outdoors.
It was great to finally see Three 4G in action and a big thanks to those people who made this possible.