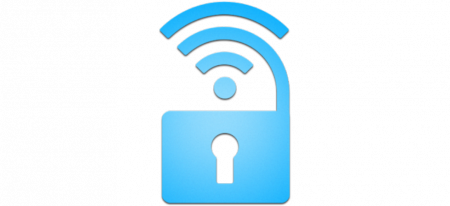 If you're using today's super powerful smartphones like me, you are now carrying everything in your pocket, your bank details, your social networks and normally some irreplaceable photo's of loved ones.
So your phone should have some kind of password/PIN/pattern/facelock protection to stop unwanted eyes to getting to the data held on your phone shouldn't it? I still know a lot of people that have no security on their phone, stating that it is "a pain to keep putting in a password every time I want to open my phone".
To some extent I tend to agree with them, what's the point of constantly putting my unlock pattern in my phone when, I'm at home or in my car..?
Here is where the app Skiplock comes to the answer, well it does for Android users anyway, what the app does, is if you are connected to either a "trusted" Wi-Fi network or Bluetooth device, which are easily selected from within the app, the screen lock is disabled ( for me this is my home Wi-Fi, my cars Bluetooth connection or my Bluetooth headphones).  As soon as the phone gets out of range, it locks, simples.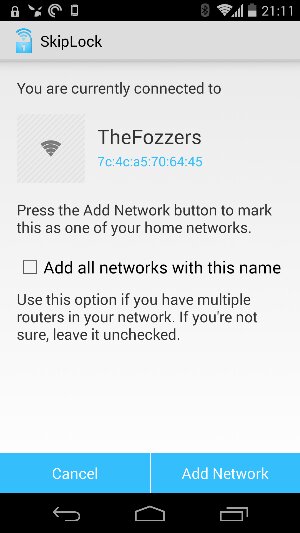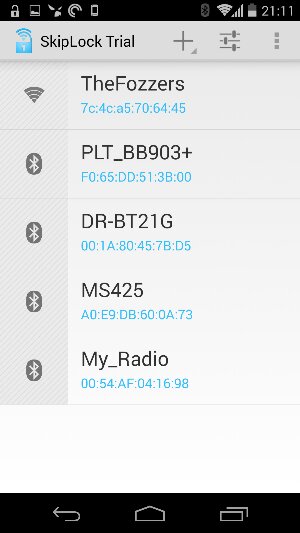 There is of course a couple of caveats these being that the app will only use pattern or face unlock with rooted phones, none rooted users can still use passwords or PIN numbers to secure their devices.
The app isn't free, there is a 4 day fully functional trial period, after that the app costs £2.99, but to be honest I was ready to purchase after a day's use.
You can get this function using other apps that are available, some of which are free, but I've tried them and they are a real hassle to set up, Skiplock is a breeze to use and does exactly what is says on the tin, for me the app price is well worth the functionality gained from it, go on give it a try…
Available from Google Play Store