Acer have their fingers in all sorts of pies, they make decent laptops, monitors, tablets and even phones. Next week at CES they've got their new products on hand for the world to see and this week they've released the info and some images on the whole new range.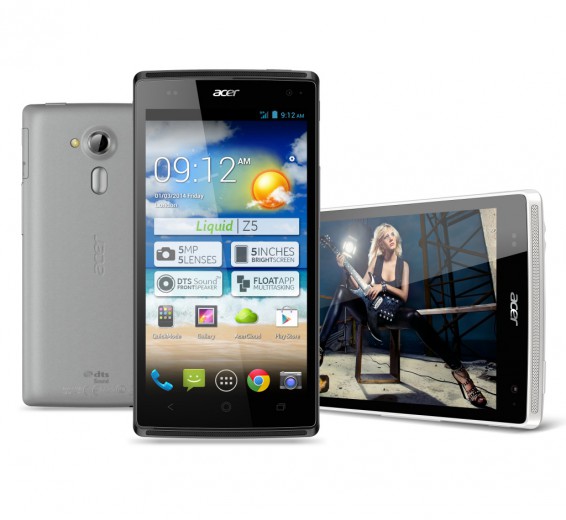 So what have we got then, they've announced two new Android tablets, two Android all in one touchscreen home computers, a Windows 8.1 tablet, two new Windows laptops and an Android phone. Here is the breakdown of what they're releasing this year starting with the Android devices.
Android devices
Acer Iconia A1-830
This is the successor to last year's Iconia A1-810, which was quite a plasticy and basic affair, the new version seems to be pretty much the same spec but with a better quality build. It's going to be an interesting device, thanks to the price and the Intel Atom chip inside.
Intel Atom (Clover Trail+) Z2560 1.6GHz processor.
1 GB of RAM.
16GB of storage and a microSD slot.
7.9-inch display (1024 x 768 resolution) with IPS technology.
7.5-hour battery life.
Stunning design features aluminium metal back cover, sturdy frame for enhanced durability.

Fast and responsive performance with Intel Atom processor.

Vivid visuals on 7.9-inch LED-backlit display with IPS technology.

Available at the end of February 2014 from €169.
Acer Iconia B1-721
The Iconia B1-721 is the successor to last years Iconia B1 which was a budget alternative to the original Nexus 7. No doubt the WiFi model will end up under £100 at some point after launch, so it might be a worthy contender to the Tesco Hudl.
1.3GHz dual-core processor.
1 GB of RAM.
16GB of storage and a microSD slot.
7-inch. Slimmer design, new body texture, better sound but yet still affordable.

10-point touch and One Glass Solution for a clearer entertainment and touch experience improve the touch experience.

Faster processor and increased battery performance.

Iconia B1-720 (WiFi w/16GB) version available mid-January from €129.

Iconia B1-721 (3G w/16GB) version available

end

January

from €179.
Acer Liquid Z5
The cheap large oversized phone section of the market is starting to become a reality what with Samsung making a range of cheap large phones as an alternative to the rather expensive high end devices like the Note 3 or the Z Ultra. Acer have introduced the Z5 which is a budget 5″ device.
Ergonomic and compact 5-inch screen.
Dual-core 1.3 GHz processor.
4 GB of internal memory.
Pr

emium design and color mix, with Essential White and Gentle Grey.

Minimalistic curves and slim body at only 8.8mm

Android 4.2.2

Suggested price

€169.- 

Available

mid

-January in UK

The Liquid Z5 features four different Quick Mode profiles targeted at different users and age groups.

Basic Mode: for youngsters with fixed call and text functions;

Senior Mode: messages, radio, weather, magnify, clock, quick call contacts to make life easier;

Classic mode: all main functions in a simple and organized layout for first time smartphone users;

Keypad mode: for people who primarily use voice and need their keypad right away.
Acer TA272 HUL Android All-in-one with WQHD Resolution
The "All-in-one" type of device has yet to reach the Pearce household, I'm intrigued, but I'm wondering where I will fit in a 27″ touchscreen Android device and as to how I'll explain it to the wife.
Android OS 4.2 Jellybean for the Android experience on a big screen.
27" WQHD (2560 x 1440) high resolution, wide-viewing angles and 10-point capacitive touch.
NVIDIA® Tegra 4 quad-core processor for smooth multi-tasking and amazing performance.
16 GB internal memory.
USB 3.0 slot.
Dolby surround sound effect.
HDMI and DisplayPort permit the display to be used as an external monitor for other devices.
suggested retail price of US$1,099.
Acer DA223 HQL Portable Android All-in-one
Acer have also decided that the "All-in-one" category needs a portable sub section. Yes they think you'll want to carry around a 21″ device. Here are the details of this crazy sounding device.
Qualcomm® Snapdragon™ 600 processor with 1.7GHz quad core CPU
21.5-inch Full HD wide-viewing angle display
10-point capacitive touchscreen
Can be used as an external monitor
MHL connectivity
Built-in battery allows it to work unplugged and be moved from room to room
Suggested retail price of US$699
It isn't all going to be Android devices announced at CES next week by Acer they are updating some of their different Windows laptops but of most interest is the updated 8 inch tablet.
Acer Iconia W4
The Acer Iconia W3 appeared last year and it was pretty much shelved due to an awful screen with some dodgy viewing angles, this is Acers new version with improved specs and Windows 8.1.
8.1-inch display with IPS technology, 1280×800 pixel resolution.
4th Generation Intel® Atom™ 1.8 GHz processor.
Either 32GB or 64GB of internal storage and it supports an additional 32GB of storage capacity via the microSD.

Microsoft Office Home and Student 2013 pre-installed at no additional expense.

All day fun and productivity with fourth generation Intel® Atom™ processor and battery life up to 10 hours.

Wide range of viewing angles, up to 170 degrees.

Available from

end

January f

rom 

€299

.
So overall it looks like Acer are going to be busy in the early part of this year and it is nice to see them continuing with Android and Windows devices. Acer also announced an updated Chromebook in white as well. Hopefully as the year goes on we'll get some of the above in to review.