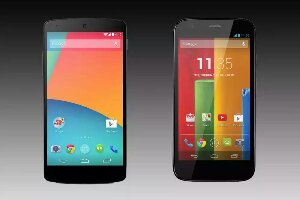 The 4.4.2 update to the Moto G was originally promised for early 2014, but Motorola says it's "thrilled to start delivering on that promise early".
The Android 4.4.2 KitKat update is now available to Moto G handsets purchased on Motorola's website and Amazon in the US.
Motorola says the Moto G purchased through carriers and other regions will roll-out "soon".
Eligible users will see the update appear on their Moto G, where they can simply click "update" if their device is charged above 50 per cent.
"This update continues our effort to get our users the latest Android software as fast as humanly possible," Motorola said in a blog post. "We began by pushing KitKat out to Moto X users on Verizon, AT&T, and T-Mobile, just weeks after Google announced the new OS—and our most recent expansion over the past few weeks includes Moto X on US Cellular and Sprint and Droid Ultra, Droid Maxx, and Droid Mini."
After installing the update, users will notice several enhancements and changes. Past the normal KitKat changes like restyled status and navigation bars, an improved phone dialer, enhanced "touch to focus" camera, photo editing within the gallery, ability to print documents, Hangouts SMS/MMS support, and broader accessory support have been added.
This means that this little inexpensive handset is really growing from strength to strength… Let us know if you see the update appear on your handset.
Source Motorola