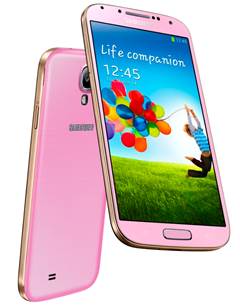 Its a Samsung Galaxy S4 and its pink.
We've seen blue handsets, silver ones, black ones, white ones, red ones and now we have that much demanded and sought after colour, pink.
On pre-order now and available from January, Phones4U will be exclusively offering the Samsung Galaxy S4 in pink from free on a £33 per month contract.  This means that Phones4U have the honour of having the widest range of Samsung Galaxy S4 colours available.
So folks, if you have been waiting for the pinkest of pink handsets, get yourself over to Phones4U and place your order now……..
The full press release is below should you be unable to contain your excitement!