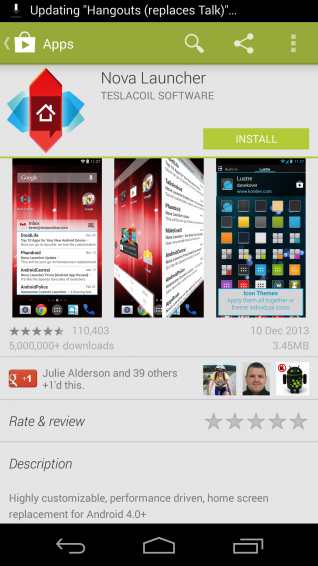 One of the most popular third party launchers available for Android is Teslacoil's Nova Launcher.
The feature packed app has now seen a major update which brings it into line with Android 4.4 Kitkat after the release of the beta version a little over a month ago.
Many many changes have been made, most based around the Kitkat optimizations.
The full changelog is as follows:
KitKat scroll indicator (Desktop – Scroll Indicator)

KitKat folders styles (Folders – Folder Background, Light Background)

KitKat font (Look and Feel – Icon Font – Condensed, Android 4.1+)

KitKat app drawer icon

KitKat icon theme (Look and Feel – Icon Theme)

Small autohiding tabs in app drawer (Drawer – Small Tabs)

Transparent system bars on KitKat (Look and feel – Transparent Notification Bar. Requires KitKat)

Backup/Restore from external sdcard
Whilst many of the features are KitKat based, the update will actually work with any Android device based on 4.0 or above.
Nova Launcher can be dowloaded for free from
Google Play