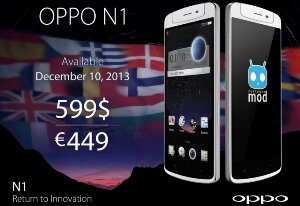 Starting December 10th OPPO's latest big flagship phone, the N1, will go on sale direct to consumers for $599 in the U.S. and €449 ( approx £370) in Europe.
N1 is sporting a 5.9-inch 1080p display, a 1.7GHz Snapdragon 600 processor, 2GB of RAM and 16 or 32GB of storage, along with an interesting 13MP camera that swivels to face either direction on the device.
It also has a touch panel on the back for navigating through the interface while using the N1 in one hand.
The N1 is able to run CyanogenMod out of the box through the stock recovery without any rooting or advanced tinkering required.
You'll see the third-party OPPO Style store selling to most of North and South America, Europe and Asia, with Amazon also selling to the U.S.