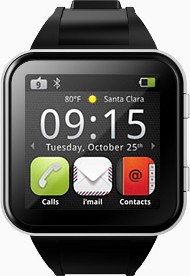 Hey you. Want to buy yourself a watch? Fancy getting yourself one of those clever smartwatches? How's £109 sound? I know! Good right?
This is the Go Watch. It's actually powered by Android 4.3 and there's a whole developer portal where apps can be published out. The 1.54″ screen features a new user interface which lets you interact using swipes to go from one app to another. Weather, news, a calculator and world clock all feature, plus you can add your own apps onto the 4GB of storage.
The Go Watch starts selling today and also connects to any Android device via Bluetooth – sending notifications and updates to your watch as soon as something happened. You can also accept or reject calls from the watch.
Not only that, but there's a built-in pedometer so that you can track your fitness levels. Also, unlike other watches, there's WiFi connectivity so you can connect to the web even without a smartphone.. it's waterproof too.
Specs
Dimensions – 49mm x 37.5mm x 11mm (43 g)
Memory – 512MB plus 4GB storage
CPU – 1GHz
Display – 1.54″ LCD TFT (240×240 pixel @ 220 ppi)
OS – Android 4.3 Jelly Bean
Battery – 300mAh (recharged from USB or power outlet)
Audio – 3.5mm audio port
If you're interested, grab one here.