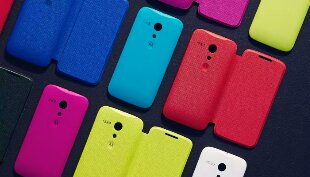 Since the Moto G went on sale, one of the most frequent questions has been surrounding availability of the different colored backs and flip covers.
UK retailer Clove Technology now has a range of both on sale to buy now, with the backs costing just £8.99 and the flip covers a very reasonable £18.99.
Red, blue, violet and the rather fetching yellow are all available in the back covers, while the flip cover has a turquoise and white option to add to those in place of the yellow.