Historically Motorola have been a bit rubbish at updating their devices and since the Google buyout they've obviously had to play ball and actually update their devices. Their current generation Moto X & Moto G have both been confirmed to get KitKat (with the Moto X rolling out at the moment) and those other new US models also confirmed to get it too.
It was the previous generation of devices that were hung out to dry, staying on Android 4.1. Well yesterday Motorola US had a change of heart and decided to update the older RAZR MAXX HD, RAZR M and randomly the Atrix HD. But being from the US they didn't mention the model we got over here, the Intel Atom equipped RAZR i.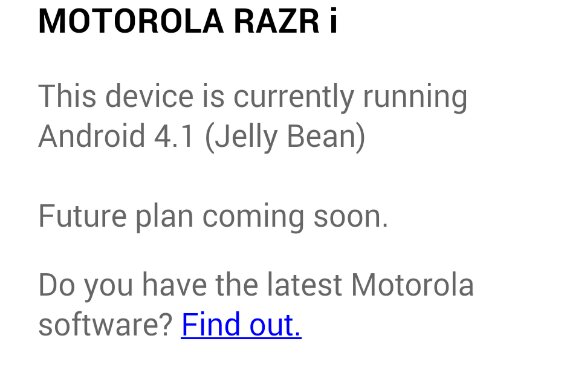 The UK support site doesn't mention it either, just going with the line "Future Plan Coming Soon". So will the RAZR i get an update to KitKat? I can't see many reasons why not, the Intel X86 stuff might slow things down at the very root of things but in the long term it should be do-able. The proper answer is that I don't know, I've emailed the UK based guys and we'll see what happens.
Source – Motorola UK
Via – Android Central