Samsung don't appear to share my huge dislike of that media-hungry do-anything-for-fame "artist" called Miley Cyrus. They've recently mentioned her in an advert for their Samsung Galaxy Gear smartwatch. The picture, as you can see below, shows a pair of pants and relates to Miley and her semi-clad antics. It states..
The Galaxy Gear. For performers who usually have no pockets for a phone.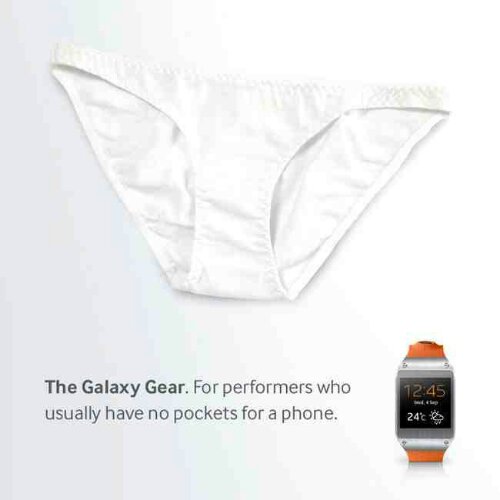 Now, the Galaxy Gear, as you know, is a great piece of kit. It sells for around £279.95 or you can get it with certain Galaxy Note 3 bundles. Why? Well, the Galaxy Gear doesn't really do a great deal without the Bluetooth connection to the Samsung Galaxy Note 3. It's a companion device, so we've got a bit of an issue with this advert. See, Miley is really going to need more than just those pants. She's going to need a rather large pocket for her Note 3. Either that, or she'll have to do her "act" within a certain radius of the Samsung Galaxy Note 3.
Doah.
Fail.
Apparently Samsung have today stated that they've off-loaded 800,000 units since it went on sale two months ago, so it seems to be doing well provided these numbers are actual sales, and not units shipped to stores.