Traditional Satellite navigation systems were once upon a time a must have for anyone that regularly undertook long journeys to far away places.
With the launch of Google maps, Apple maps and the vast array of other mapping solutions available for mobile phones the demand for Sat-Navs has decreased and companies such as Tom-Tom and Garmin have had to look at adaptation and alternative products in order to remain competitive within the modern market.
One such product is the Garmin Head Up Display.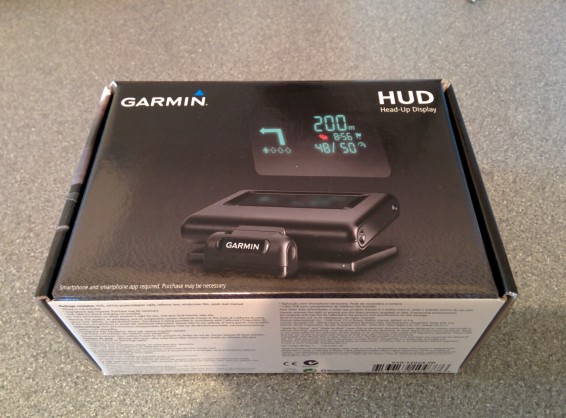 The Garmin Head Up Display "sits on any vehicle's dashboard and projects navigation information onto the windscreen for easy viewing.  It works with any Android, Windows Phone or iOS device that has a Garmin navigation app installed (either Navigon or Garmin for iOS)."
Supplied in the box are the Display unit, clear windscreen film , a power / adaptor cable, a reflector lens and a quick start manual (which covers more languages than I knew existed).
Installation of the HUD is very simple.  The unit sits upon the dashboard in front of the driver reflecting either onto the windscreen or onto the reflector lens provided.  If you opt for reflection onto the windscreen then the film should be applied in your chosen location.  Be warned though, once applied this cannot be moved so make sure that you get the location right!
As this is a loan unit I opted to use the reflective lens which simply snaps onto the rear of the unit which can then be angled for optimum viewing.

The unit is then powered by the provided cable which plugs into your vehicle's power adaptor socket.  This adaptor also has a spare USB slot thus enabling charging of your smartphone along with providing power to the HUD.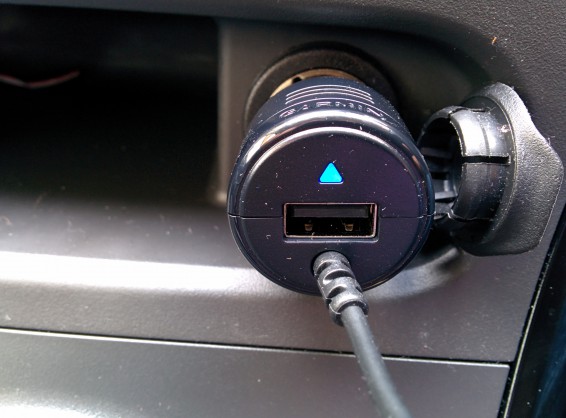 Once plugged in and powered up the next step is to pair it to your phone.  This proved a very simply process with the HUD being found straight away and no pairing code required. Once the app is fired up the unit is all connected and ready to go.
The next step is to put in your destination on the app, select a route at which point the data is sent to the HUD.  Displayed then is the following information:
Current speed / speed limit
Speed camera indicator (if in vicinity of speed camera)
Time / time till arrival at destination
Distance to next turn
Next turn direction
Lane indicator (if more than one lane available)
A short while ago Leigh wrote an article regarding makeshift HUD solutions implemented using a mobile phone and several concerns were raised.  Firstly, the slipping of the device.   The Garmin has an excellent sticky base which moulds to the shape of your dashboard thus negating the problem.  This does however lead to a slight issue.
I am fortunate enough to not live in a crime ridden area but I certainly would not leave the Garmin HUD in my vehicle overnight or unattended.  This means that it must be detached from the dash thereby leaving the aforementioned sticky base pad free to pick up all sorts of plunder and obviously it is not the type of surface that can be easily cleaned.
Another concern raised was the brightness of the image being reflected.  As can be seen from the images both above and below this really was not an issue.  The image displayed was bright and clear at all times and in all lights.  I was pleasantly surprised by just how clear the image was showing in direct sunlight.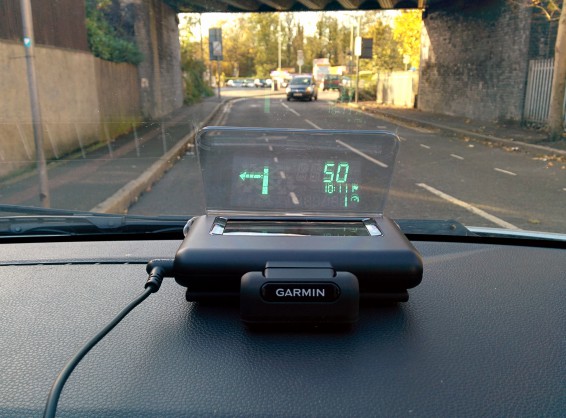 A preconceived concern that I personally had was around whether a head up display would, rather than be a help, actually prove to be a distraction.  After all, images projected onto your windscreen can only be a hindrance when trying to concentrate on the road ahead, surely?
Here  is where the Garmin does rather well, acting as a useful navigation aid in that instead of glancing at a sat nav every now and then to check where one is headed, all that happens is a cursory glance down to check that the right direction is being taken and how far it is until the next turning point.
In fact I felt that it was far safer using the Garmin HUD than my usual Google maps on a handset particularly as the excellent Navigon app regularly warned of speed cameras and actually the instructions were issued well in advance time wise when compared with Google's service.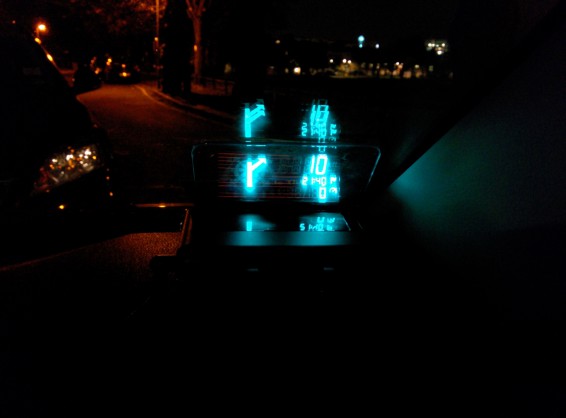 At night the display proves to be bright and vibrant, once again images are clear and easy to decipher.  Again where I thought the HUD would prove to be a distraction actually the opposite was true, it is surprisingly easy to ignore until the information is needed.  The image above shows a fair amount of reflection on the windscreen when using the lens display at night.  In truth this is more a trick of the camera and not actually the reality.
Overall, the Garmin HUD is a great little device with a vibrant, clear display.  Easy to set up and use and once paired with the equally good Navigon app it proves to be an excellent driving aid and one which I would not hesitate to recommend to those who spend lots of time on the road and in need of direction in getting from A to B.
My thanks go to Garmin for the loan of the HUD which is available from the Garmin Shop priced £129.99