Time wasting.  There are plenty of apps that can be classed as time wasters, games that you can dip in and out of, a quick read of social network feeds whilst waiting for the kettle to boil and so on.
One such game that can firmly be put into that category is Hill Climb Racing published by Fingersoft.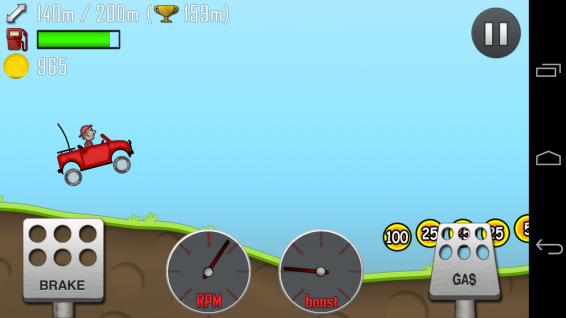 Hill Climb racing is great.  Let's make no bones about it.  It's easy to play and very very addictive.
The aim of the game is simple.  Get your chosen vehicle (there are 14 of which 13 are unlockable via progression throughout the game) as far along the track (14 of these too, unlockable as you go along!) completing tricks and stunts along the way to  earn points with which to upgrade your automobile in order to get further along the track and collect more points and so on and on….
A simple concept, great graphically and implemented superbly, Hill Climb Racing is one of those games that you load up and before you know it half an hour has passed and you are thoroughly engrossed.
The game is ad supported and also offers the option of purchasing more coins via in app but this is by no means necessary, excellent progress can be made without resorting to spending any money.
When you have made good progress you can boast about it by sharing your score via Twitter, Facebook or Google + and updates are made on a regular basis.
The developer says that the game has been optimised to run on both lower resolution and high resolution screens.
So if you fancy a really good little time waster for absolutely no money then you could do far worse than take a look at Hill Climb Racing, available free on both iOS and Android.