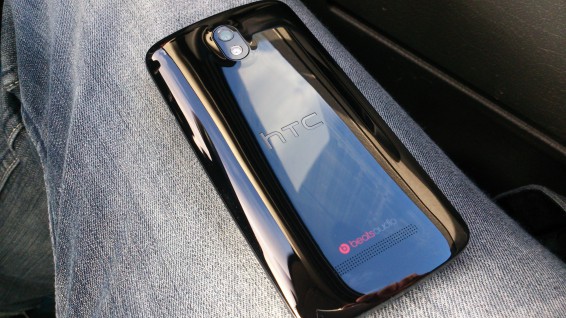 Take yourself a quad-core 1.2GHz CPU, 4GB of on-board storage (plus a microSD card slot for more space) and a 4.3″ WVGA screen. Sounds good so far. Add a dash of GPS, a 3.5mm audio port, Bluetooth 4.0, DLNA, WiFi and the Beats Audio technology.
All this stuff, and more, is in the new HTC Desire 500. It has an 8 megapixel with auto focus and LED flash plus a 1.3 megapixel camera up front.
Thing is, this particular HTC is just only around £200 unlocked. It's got the HTC BlinkFeed interface too.
Carphone Warehouse are stocking it for £199.95, as are Amazon (£256.71), Expansys (£214.99) and elsewhere.
Basically, it's a lot of the good HTC stuff you've seen in other HTC handsets, but for a lot less cash.
Now, I've only had the HTC Desire 500 for a day, but I wanted to give you some up-close shots of the phone and my first impressions. Quick if definitely is, and shiny too – it was slipping around all over the place during the photos and, as you'll see if you zoom in, it seemed to pick up dust as it did. The two soft-keys on the front took a bit of getting used to – I'm used to at least three on Android and only having two was a little different. I was also initially a little uneasy about the amount of frame on the top and bottom of the screen.
However, the inside of the phone was pretty much the same experience you find on the HTC One, minus BoomSound either.
Here's some up-close shots to whet your appetite. We'll have a full review soon.