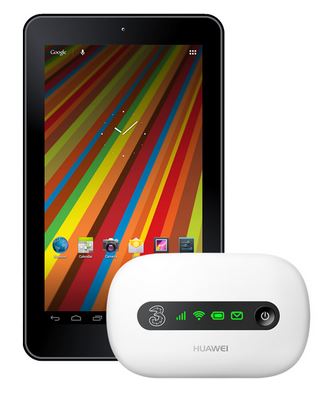 You're on a budget. You want a cheap tablet. Hey, no problem. There's absolutely stacks of the things.
However, they're nearly always WiFi-only, which is a bit of an issue if you're away from your router for any length of time.
Three are solving this with the Gemini D7 tablet and a MiFi combo. The tablet is £99 and comes with MiFi Pay As You Go Starter kit.
It works like this. The tablet is £99.99, but if you buy the 1GB MiFi magic (£49.99), Three will give you the tablet at half-price. The up-shot is that you can browse the internet whilst out and about.
The Gemini D7 ? Well, it's a fairly standard 7″ Android tablet. It runs Android Jellybean and has GPS, WiFi, a dual-core 1GHz CPU, 2 megapixel rear camera, VGA front camera, 3.5mm audio port and NFC.
The description says "Entry level" and "Amazon appstore" quite a bit so, let's be honest here, this really is budget territory. Get more details on the Three website.