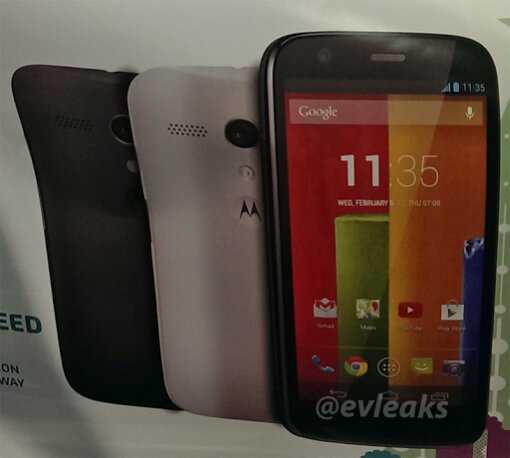 Motorola are due to return to the UK very soon, with the leaked and rumoured Moto G which seems to be a dumbed down version of the US only Moto X. Motorola have posted it up for pre order on Amazon of all places for a rather tempting £159.99 with availability being the 14th of November.
Product Description
Moto G is designed for all the things you want to do-taking and sharing photos, watching videos, checking scores, getting directions, listening to music, you name it. Moto G also gives you choices. Different backs you can switch out to reflect your unique style, and access to more than one million apps on Google Play to create your own mobile experience. Every detail is just how you'd like it.
Spec wise we are still relying upon leaks and rumours. So far we have the following info about the spec.
Quad-core 1.2GHz Qualcomm Snapdragon S4 MSM8226
Adreno 305 GPU
4.5-inch 720p screen (329ppi)
Android 4.4 KitKat possibly
16GB internal memory
5MP/1.3MP cameras
Bluetooth 4.0
3G HSPA+
So if all of this comes true and Motorola haven't screwed up the Android build it could be a really appealing device if you want a cheap mid range device.
Source – Amazon
Image via evleaks
Via – PhoneArena