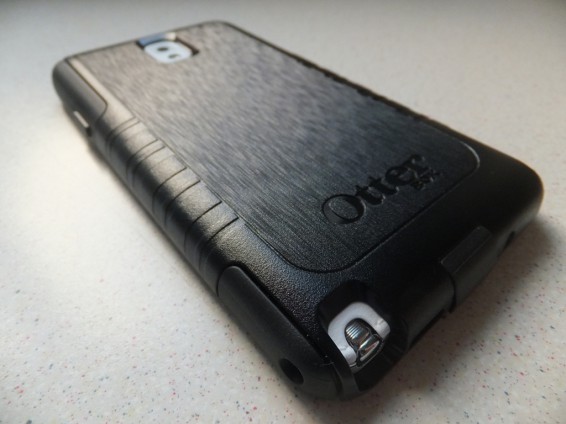 It has become part of my phone buying ritual now. Buy a phone, buy a cheapo case, buy a slim case for nights out and then buy a case that's big, protective, dustproof and will protect my phone during my daily adventures, then repeat in a variety of different colours, then sell phone and force the new owner to buy ALL of the cases too.
Otterbox recently sent me the Commuter case for the Note 3, which is due to be released in the next couple of weeks. So I'm going to review it for you eager Otterbox customers. Starting as always with the good and bad points.
Good Points
Not as bulky as previous years models

Decent protection from drops and impacts

Inner protective layer less grippy than previous models

S-Pen easily accessible
Bad Points
Backplate a bit slippy

Corners a bit grippy

A little costly
Design
The Otterbox Commuter case is the thinner of the super protective cases, it has a soft rubbery inner layer that has various cut outs and flaps for buttons, sockets and the IR Blaster. You then get a hard polycarbonate outer shell that clips into place over the top of the inner layer.
This combination basically offers protection from impacts and being dropped. The screen is fairly well looked after as the case comes proud of the screen by about 4-5mm meaning it can land face down and you might be ok (random sharp object dependant). You also get a screen protector in the box so you're pretty much covered for most eventualities.
In Use
Big chunky cases often suffer with their bulk or design complexities, Otterbox seem to change their designs ever so slightly each year. Little things like not having a hard plastic piece surrounding the buttons, which would make fitting the case really awkward. I was pleased to find that the outer layer just basically clipped on and I was done. The hinged flaps also have more movement this year allowing them to be slotted through the outer a whole lot easier than before.
It's not all great though, with great protection comes compromise. Every time you want to charge your Note 3 or listen to music you're going to have to open a flap and hold it out the way whilst you plug in. Nothing major just a few seconds a day lost to flap manoeuvring! The other few problems I had with the case were to do with the back of the case, which is a textured hard polycarbonate. Which when placed on a flat but non level surface meant the phone and case slid about a bit. The other problem I had was with the corners of the case, the corners are the exposed soft rubbery inner layer, which tend to grab hold of your trouser pocket liners when you're trying to to the phone out. Although this was only a problem with my "smart" work trousers, with my baggy home time trousers grippy corners were a forgotten issue.
Conclusion
Overall I was happy with the Commuter case for the Note 3, it's a little costly, a little bulky compared to some of the other cases on the market and there are a few issues surrounding the design. But it currently offers more protection than any of the competition. If you want a decent level of protection you're going to have to compromise.
The Otterbox Commuter case for the Samsung Galaxy Note 3 will soon be available on the Otterbox UK store.