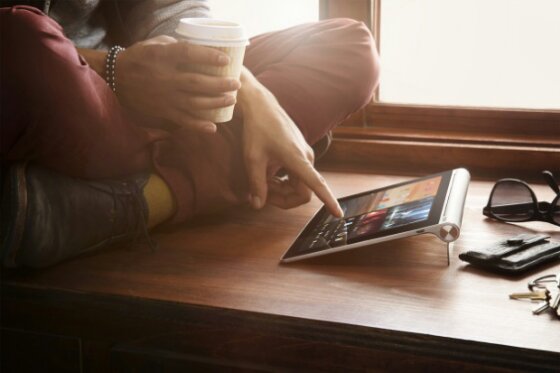 Lenovo have made a range of tablets over the years, a few of which have been Android and a few have been Windows 8 based. The focus of this week's announcement has been the multimode tablet that has a unique kickstand allowing you to position in a variety of different poses.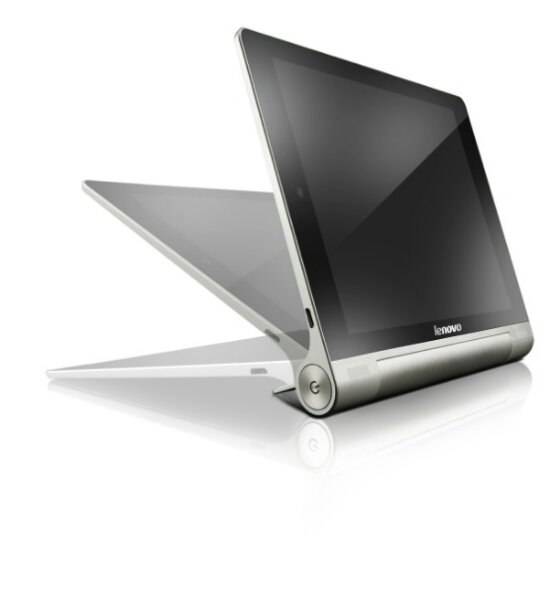 The Yoga Tablet's innovation lies in the unique handle design of its cylindrical battery, enabling three different usage modes – hold, stand and tilt, each offering a unique and beneficial way for users to interact with their tablet. The battery lasts up to an incredible 18 hours, taking the tablet experience to the next level. The Lenovo Yoga Tablet is available with both 8- and 10-inch screen sizes along with built-in multimedia features for entertainment on the go.
So it seems that a manufacturer is willing to try and create something a little different, I guess it's all down to pricing and specifications.
Lenovo have said the following about pricing:
Estimated price of Lenovo Yoga Tablet is £199 and £249 VAT included for the 8-in and 10-in, respectively. For 3G models, estimated price is £229 and £279 VAT included for the 8-in and 10-in, respectively. Models will be available in EMEA starting in November. Estimated price of Lenovo Yoga 10 Bluetooth Keyboard Cover is £79 VAT included.
Which all sounds good, how about the specification? They've got the following to say:
The 10 inch and 8 inch models run on MT8125 for Wi-Fi models and MT8389 Quad Core processors for 3G models with 16 or 32 GB capacity and feature Android 4.2. Also equipped with Dolby® audio, Yoga Tablet's front-facing speakers create a powerful surround sound experience through the device speakers and with headphones. 

Extremely mobile, both models are featherweights weighing in at 605 grams for the 10-in model and 400 grams for the 8-in model. They feature high definition 1280 x 800 displays, a 5 MP auto focus rear camera plus an additional front camera, a micro SD expansion slot, allowing up to 64 GB of total storage, Wi-Fi and optional 3G in select countries and a micro USB connection and Dolby DS1 for rich audio. Lenovo offers an optional Bluetooth keyboard for the 10-in model that functions as a cover and even wakes up the tablet when it's removed and puts the tablet to sleep when it's attached.  Users can also opt for a WD100 dongle in select countries to stream video content from the tablet wirelessly to a TV.
For me the MediaTek processor rings alarm bells, it will be usable, it's just MediaTek equipped devices normally have some quirky stuff going on. This different form factor is intriguing though, I'd certainly like to try these out and at the prices quoted I might just do that.
In the meantime I'll just look at these pictures.