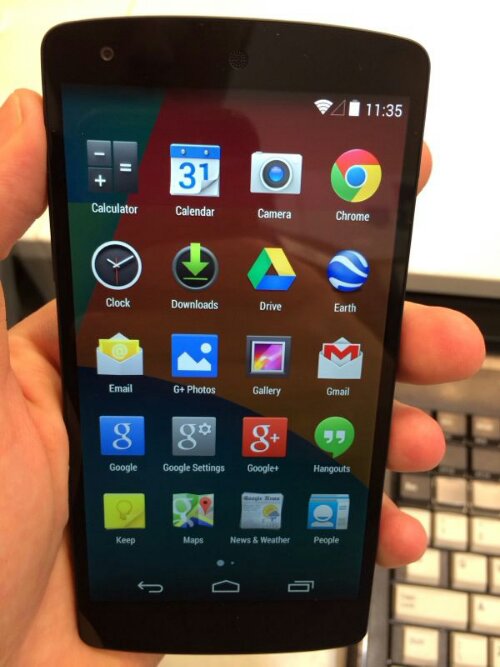 Available to buy right now, this is the Nexus 5 running the all-new version of Android, KitKat 4.4. It has a 5 inch screen, Snapdragon 800 quad-core 2.3GHz processor and a camera that adds a bit of DSLR fun. The camera also has a new lens to capture more light and create sharp action shots.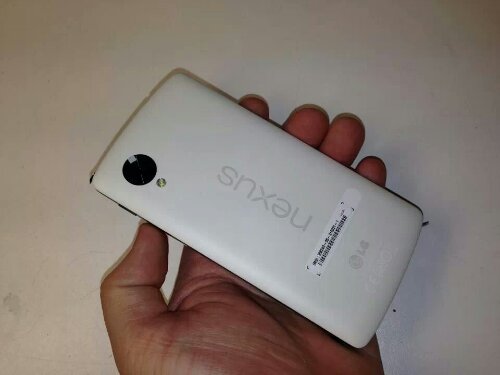 Other specs include a 2300mAh battery, dual-band WiFi, Bluetooth 4.0, NFC and a 3.5mm audio port. That screen, by the way, is a 1920×1080 pixel at 445ppi and it has Gorilla Glass protection. The rear camera is an 8 megapixel shooter with OIS and all the extra fancy lens tech, plus there's also a front-facing 1.3 megapixel shooter for video calls etc. On board you'll find 16GB of storage (although O2 have the exclusive on the network 32GB version). No mention of an SD card that we can see.
The guys at Three have done a fantastic hands-on of the phone along with a look at KitKat. We really can't recommend tis video highly enough if you're looking to purchase..
http://www.youtube.com/watch?v=i291KxrQ8uQ
Get yours from Google direct in the Play Store it is available from £299 for the 16GB and £339 for the 32GB.
More as we get it, and we will have additional photos soon.