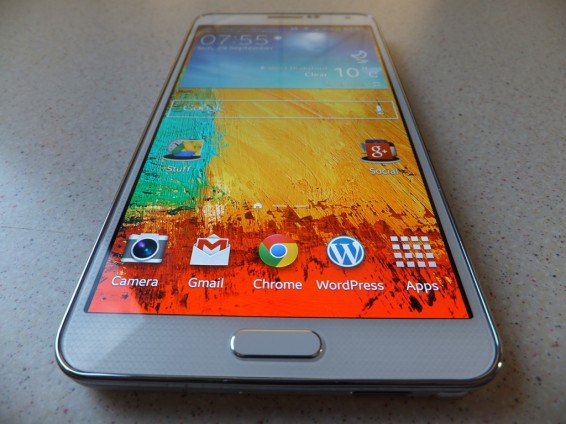 Let's face it, the Samsung Galaxy Note 3 is the new flagship for Samsung. No longer does the Galaxy S range sit at the top of the pile. With the original Note it was very similar to the S2, with only the screen size and the design being the differentiator, the spec was basically the same. Fast forward a few years and the Note 3 is quite a way ahead of the Galaxy S4 in spec. I've been using the Note 3 for several weeks now and I am truly impressed. It's a great device, but it does still have areas that Samsung need to improve upon to make a truly amazing device.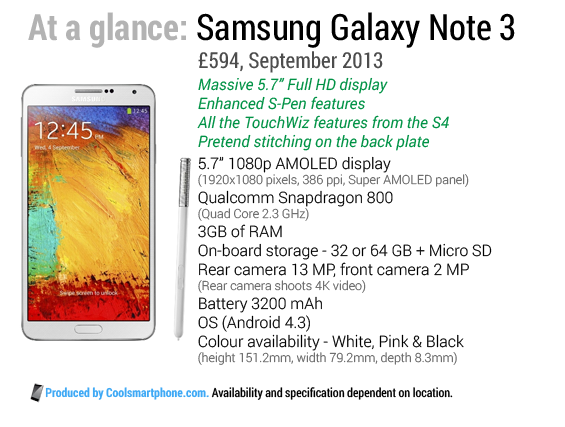 So onto the review, starting with my good and bad points.
Good Points
Glorious screen
Spec list
Android 4.3
Some specific software additions
MicroSD slot
MHL in the USB 2.0 part of the large USB 3.0 port
S-PEN
Bad Points
Backplate is an acquired taste
Lack of wireless charging (without extra cost)
Sheer volume of software additions
Speaker a little quiet (yet it still has a better position)
USB 3.0 cable cost makes getting additional chargers costly
Design
The Note 3 design wise has seemingly stepped back a bit, the Note 3 actually looks like the Galaxy S2, it's less rounded in the corners and the silver strip around the bezel as well. I like it though, more so than the design of the Note II. Samsung seem to have actually put some thought into the design, gone is the hyperglaze backplate and instead their is the leather look backplate with fake stitching.
The S-Pen is new and improved also, it can now be inserted either way round, so no fumbling around in the dark trying to get it in. I like the new design and combined with the new Air Command pop up when you remove it the S-Pen is increasingly becoming something I actually use.
The speaker has moved as well, from the backplate to its new home on the bottom edge, meaning you can put the phone down to listen to music or something without it sounding muffled.
I prefer the feel in the hand to the Note II, this is mainly down to the fact it's lighter and thinner.
Hardware
The spec of the Galaxy Note 3 is as follows:
Processor – LTE 2.3 GHz Quad-Core Processor
Display – 5.7inch (144.3mm)  Full HD Super AMOLED (1920 x 1080)
Memory – 32/ 64 GB User memory + microSD slot (up to 64GB)
RAM – 3 GB
OS – Android 4.3 (Jelly Bean)
Camera – Rear – 13 Mega-pixel BSI Sensor, Auto Focus camera with Smart Stabilization, LED Flash(High CRI), and Zero Shutter Lag
Camera – Front – 2 Mega-pixel BSI sensor with Smart Stabilization, Full HD recording @30fps
Connectivity – WiFi 802.11 a/b/g/n/ac, GPS / GLONASS, NFC,  Bluetooth® v 4.0, IR LED (Remote Control), MHL 2.0
Sensors – Gesture, Accelerometer, Geo-magnetic, Gyroscope, RGB, Proximity, Barometer, Temperature & Humidity, Hall Sensor
Battery – Standard battery, Li-ion 3,200 mAh
Dimension – 151.2 x 79.2 x 8.3mm, 168g
The hardware is really top notch, there isn't really anything wrong with it at all. The lack of wireless charging (without having to buy expensive accessories) and the lack of OIS (Optical Image Stabilisation) in the camera are both disappointing.
The rest of the spec is pretty special though, as usual Samsung have fixed the TouchWiz lag problem by just adding more RAM to a device, the 3 GB of RAM installed in the Note 3 is an absurd amount to have, combined with the 2.3 GHz Quad Core Snapdragon processor it makes everything fluid and snappy. If you like to install alternative launchers you'll be surprised even more at the speed.
I really wish they had included Qi Wireless charging in the Note 3. Yes it is available as an accessory, but the Qi cases are thicker meaning I can't use a protective case to look after my new phone.
I was surprised to find that my old USB 2.0 MHL USB Host cable worked in the new USB 3.0 port, you can also charge via older USB 2.0 chargers, it just will be a bit slower. Talking of speed, the USB 3.0 charger charges really damn quick, my Note 3 is done in a couple of hours.
Software
The Galaxy Note 3 runs TouchWiz which is an all encompassing skin on top of Android 4.3. Samsung have skinned and renamed most of the stock apps, so "Calendar" becomes "S-Planner"which at times makes things a little hard to find. The nice thing about Android 4.3 is that you can add widgets to the lockscreen and through a combination of taps and swipes on the lockscreen you can be adding stuff.
In addition to skinning Android TouchWiz adds a LOT of settings, apps and options and with each new generation of products from Samsung the list of things to fiddle with grows longer, it is all of these things that slowed down the Galaxy S4 and they are the reason the Note 3 has so much RAM. Some of them are damn useful, like being able to take a screen shot with a quick swipe of the screen, some of them are just downright odd such as the "Air Gesture" bunch of options which allow you to wave your hand around in front of the screen to navigate the web or the gallery. Everyone I've shown the Air Gesture stuff has told me I look like an idiot whilst using it.
Samsung have added a huge range of apps to the Note range, which are designed to make life easier. They attempt to do this in two ways really, they help with the size of the device and also for the S-Pen. Some of the more useful app are as follows.
Air Command
When you pull the S-Pen out of its home you get a nice radial popup allowing you to choose an S-Pen action. You can choose from Action Memo, Scrapbooker, Screen Write, S Finder or Pen Window.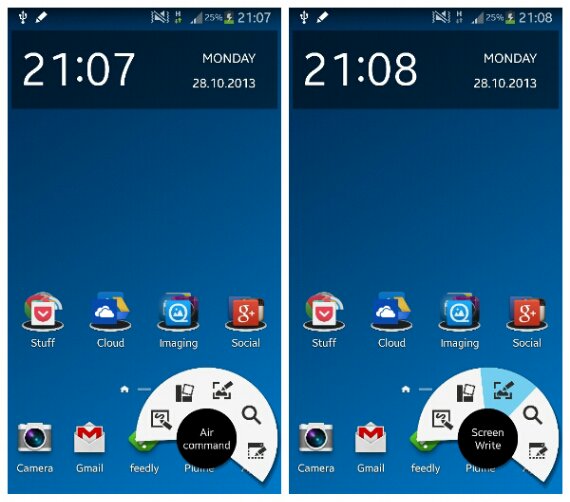 Action Memo is a note taking app, Scrapbooker loads up the Scrapbook app, Screen Write takes a screen shot and let's you annotate it, S Finder is a universal search function and lastly Pen Window is possibly the most useful of all the S-Pen functions as it allows you to open up a little window on top of other opened apps.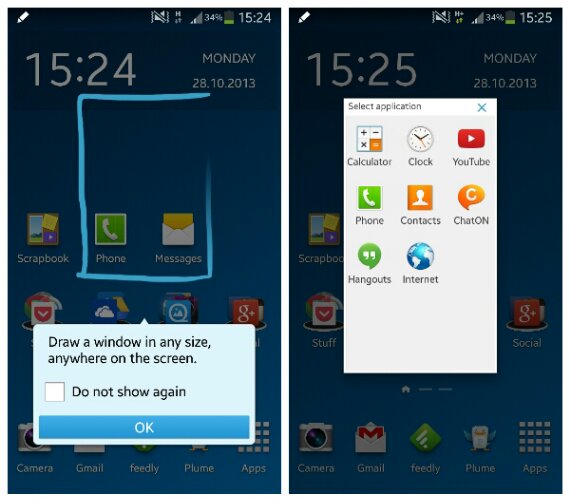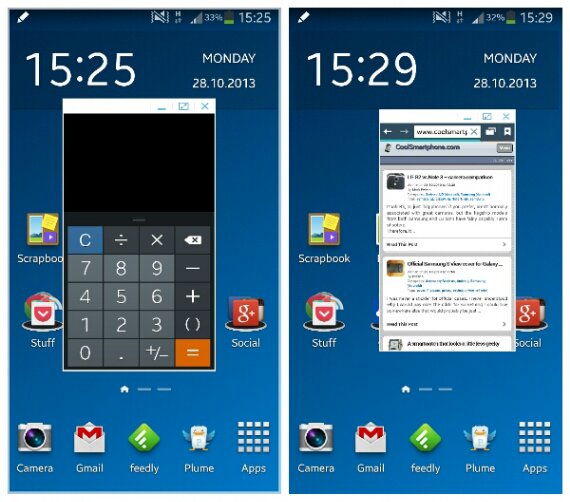 Scrapbook
Scrapbook is an interesting piece of software, it basically let's you select an image or video with the S-Pen and it will save it with a link to the original. It's kind of useful, if Scrapbook synced between Note devices it would be really quite good.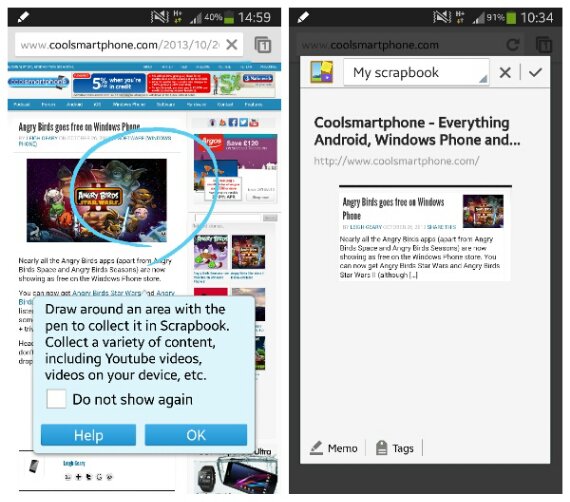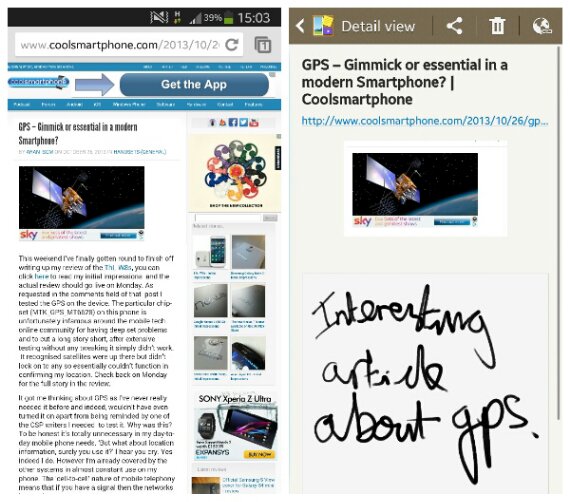 You can configure the S-Pen slightly, with some options to do with detection, the app that is launched and a noise.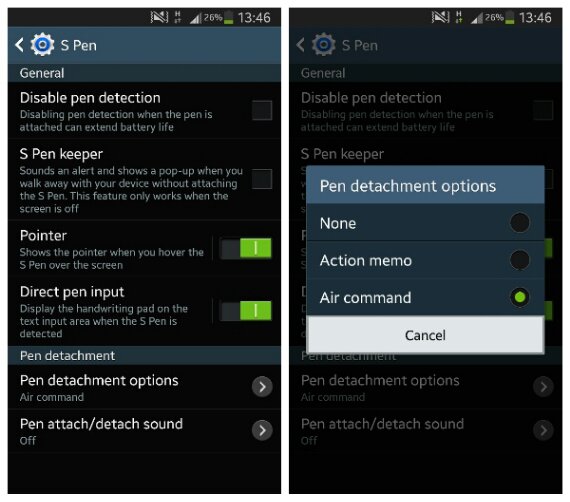 Single handed use
The single handed use is quite interesting, there are several different modes you can use. The keyboard can be moved from left to right, the dialler can and also the calculator app can be moved. There is also a small screen mode which shrinks the screen down to about four inches to allow you to cover the whole screen with one hand.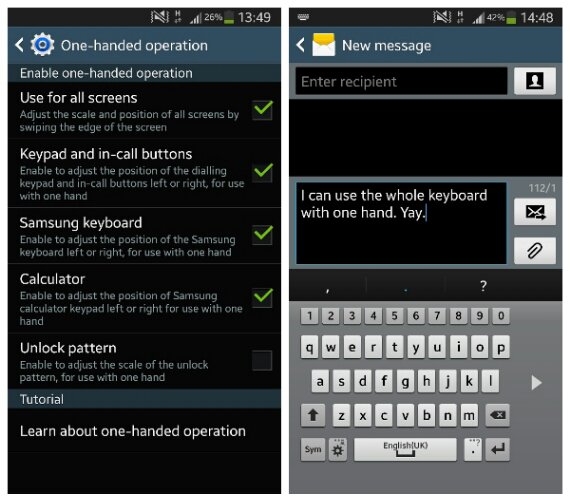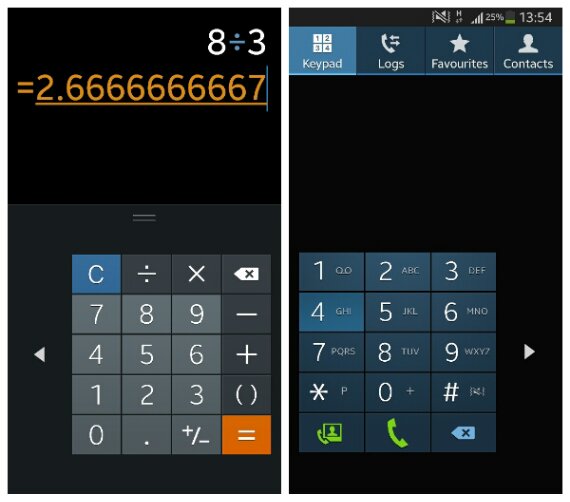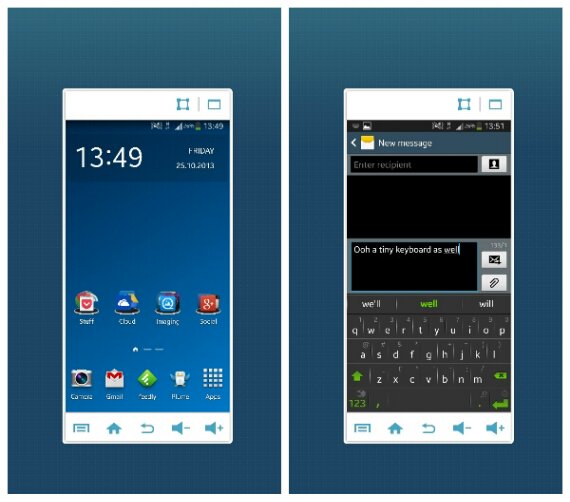 TouchWiz launchers
Samsung have two launchers built into the Note 3, Easy Home might be useful if you just want basic functions to hand.
TouchWiz Home
Easy Home
Easy Home is a mode that allows people to easily access core functions without getting bogged down by all the settings. Not for me really, but if for some strange reason an old person bought the Note 3 they'd eventually find their way to Easy Home.
Multi Window
Multi Window becomes a little bit more usable with every new device running it. Multi Window basically allows you to run two apps side by side and you can jump between them with ease. The list of apps that now support it is pretty impressive, with many third party developers adding support into their own apps. Multi Window would really be useful on a large tablet like the Note 10.1 2014 edition.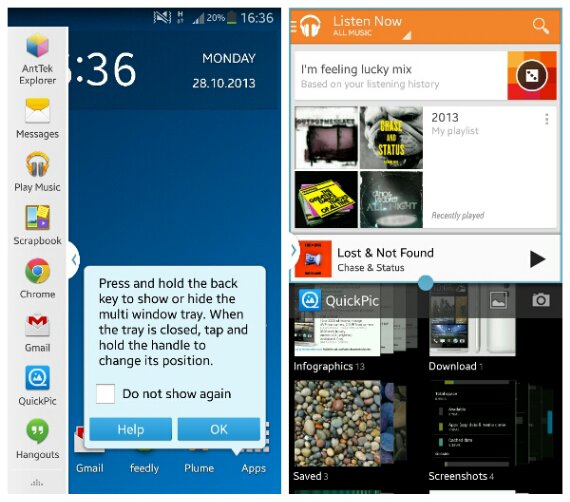 Other notable stuff
Camera
The camera is really quite good, in daylight it takes some really nice clear colourful pictures. In low light the software stabilisation kicks in and tries to help out, which it does but it also adds some noise and has a processing delay.
Battery life
The Note 3 has a 3200 mAh battery meaning normal people can easily make it through the day. I've talked about before how I use batteries up like there is no tomorrow, well, for the first time ever this phone actually got me for 5am through to the end of the day and then some the following day. I'm impressed with the battery life.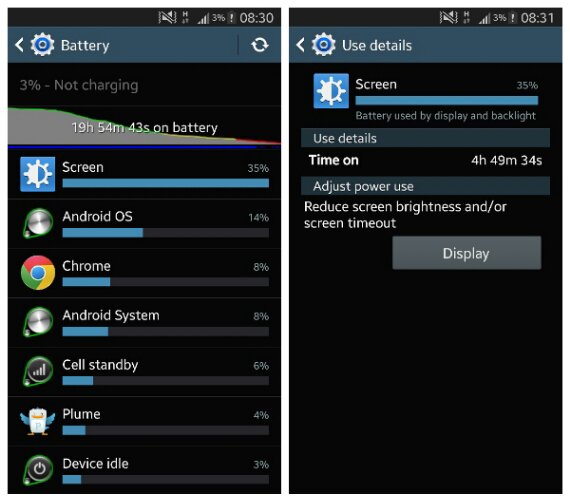 Benchmarking
The Note 3 benchmark wise scores rather highly, no doubt thanks to that processor. It ranks alongside the LG G2 and the Sony Xperia Z1. Which have the same processor, although the Note is clocked at 2.3GHz as opposed to 2.2GHz.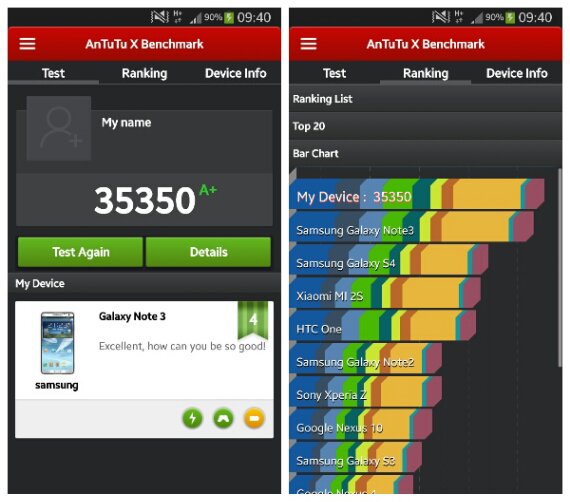 Conclusion
Overall the Samsung Galaxy Note 3 is a great device, perhaps a little costly at the moment. The large screen size and the S-PEN seem to have attracted a premium. The list of what it can do is enormous, I constantly find new things I can achieve on a Note that previously I'd reserved for my PC, especially with the new Multi Window option.
The main thing that gets me is how it doesn't seem huge anymore, the Note 3 just seems like a large phone, although thats probably because I have been using some 6″+ devices recently. The other thing that gets me with the Note 3 is the spec list, it is way ahead of the Android competition at the moment and because of that it's the phone for me, whatever I want it to do I can make it do exactly that, no game or app will cause it to struggle.
The bad things do get annoying at times, lack of Qi charging and the sheer number of software additions being my main two issues. ALthough both are easily rectified, I've bought an internal Qi card and I've turned most of the software additions off. So I'm pretty happy after a little work.
Lastly a great big thank you to Clove for lending us a black and white model, if you want one it is available from Clove.co.uk in white or black for £594 inc VAT.
Samsung Galaxy Note 3 - Review
Hardware - 9
Design - 7.5
Software - 7.5
Battery Life - 9.5
Camera - 8
Screen Quality - 9
8.4
The other thing that gets me with the Note 3 is the spec list, it is way ahead of the Android competition at the moment and because of that it's the phone for me, whatever I want it to do I can make it do exactly that, no game or app will cause it to struggle.