This is a review of the ThL W8S.  You can read my initial impressions post here. I purchased the phone from Pandawill, a China based exporter and it cost $295 (which converted to £185.67 on the day). It is now listed at $279 with only one battery and could well change in future weeks or months. To keep this review about the phone I will avoid going into details about my buying experience and the risks and methods of importing technolog,  but I do plan to write a separate post on this subject some time soon if there is sufficient interest in the comments field.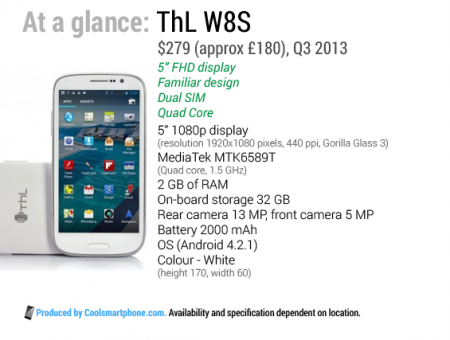 It has taken a little while for me to collect and order my thoughts about this new mobile phone. As I bought it I am reviewing it from an owners perspective, which will hopefully mean I'm going to answer a lot of your questions. Feel free to ask any questions in the comments box and I will answer them that way.  I have to admit approaching this phone with a certain amount of paranoia regarding the build quality and to a lesser degree the software and user experience. I will start (as seems sensible) from when I opened the box…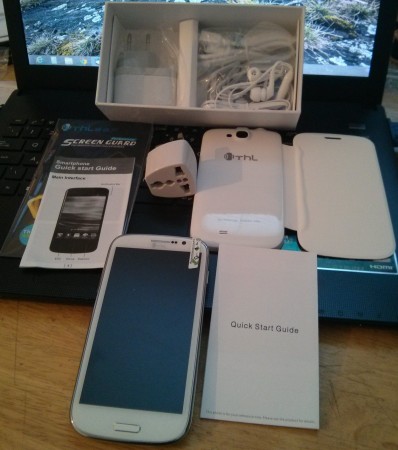 From the start I was impressed with what was included in the package. You get very close to everything you could need for a mobile phone which although seemingly an obvious thing to do, still does not happen that often with smartphones these days. These extras included the almost ubiquitous threesome of USB cable to hook to your computer for data exchange, plug for the end of the USB (a UK adapter was shipped along with the package) and a very basic set earphones. You also get a screen protector, a fold-over case, and a second battery. The only possible add-on purchase I could think of would be an SD card or possibly a way of charging the second battery without having it in the phone. This was great as the last thing you want is to have imported a phone and then having to do a second order for stuff that didn't come in the box. Leading with this point then, hear are my revised good and bad points about this phone:
Good
Near perfect weight for smartphone – heavy enough that you won't forget it's there, light enough never to be concerned with carrying it
Amazing screen! Great viewing angles!! This is the best screen I've ever had on a device!
Great price
Two sim slots (even though full size) are really convenient, software implemented well
SD card slot – up to 32gb
Bad
To access the sim slots and SD slot you have to remove the entire back casing of the phone which is not designed for repeated movement – it showed signs of slightly bending out of shape after a few dozen removals
The W8scompletely emulates other manufacturers look, no real identity of its own
Slightly maverick software experience
GPS not working according to gps tests
Very faint none-premium feel
In my initial impressions post I  mentioned that it came with Chinese charger (and  separate UK adapter) which has not made any difference as both charger and USB wire are still in the box. Over the years I have collected quite a dearth of both and so this has not figured into the review at all. I also was not sure if two batteries that were included was a good or bad thing and I can confirm it is both. It is good as they are needed if you ever plan to be away from a power source and use your phone a lot but this is a common feature with most smartphones these days so I have not included it in either list. With a fantastic, clear and bright screen you are going to get some considerable battery drain. Fair enough.
Hardware
I got halfway down the list of specifications below and decided to this would be my next phone. It seems to be pretty much anything you could want in mobile:
Display – 5.0", 1920 x 1080 pixels, 5 point multi-touch, Corning Gorillas Glass 3
CPU – MTK6589T Cortex-A7 Quad-core ARMv7, 1.5GHz
GPU – PowerVR SGX 544
O/S – Android 4.2.1
RAM – 2GB
ROM – 32GB
Wi-Fi – 802.11 b/g/n
Band – 2G: GSM 850/900/1800/1900MHz / 3G: WCDMA 850/2100MHz
MicroSD –  up to 32GB
Dual SIM
Front Camera – 5.0M HD
Back Camera – 13.0M HD AF color with flashlight and auto focus
Battery – 2 x 2000 mAh Battery
Net Weight(Including battery) – 154g
Size – 178 x 50 x 60 mm / 7.0 x 1.96 x 2.36 inch
3.5mm audio and mic jack
Extras that arrived with the phone– Second 2000mAh Battery, 3.5" earphone, 5.0V adapter (separate UK adapter also shipped), USB cable, screen cover case, screen protector, two quick start guides
The same, shiny white plastic look of the Samsung Galaxy range that is loved and loathed in relatively equal numbers is present here. You are made more aware of the plasticy casing as the only way of accessing the SD card or sim's is to remove the back fascia. In the first couple of weeks of ownership this back casing was removed many times and this more than usual semi-regular handling slightly warped the plastic at the bend point so it creaked when on the phone and squeezed in a certain way. It has subsequently warped back to grip the phone snugly again but it is an unwelcome reminder that to sell this phone at this price point the manufacturer has had to cut costs somewhere. The flip-cover that is included is of the exact same material so at least you have a back-up but it is a shame. Once the cover is off the internal is of a better quality, no complaints there although you'sense the 'value-tech' again as it is held together with highly visible, Phillips headed mini-screws. No problem as this is the insides after all. The buttons, whilst being functioning fine do wobble ever so slightly in the holes they sit in although visually they don't really detract from the look of the phone unless you are looking very, very closely.
After the back-casing, buttons and internal views we get to the most important section; the front. Here you are not disappointed. The screen viewing angels, resolution and colour quality are all top-notch. It is not 100% perfect as you do have the front button which fractionally reduces the overall experience when used  but over all, when the screen is on it is an exceptional piece of kit. 1920 x 1080 pixels, 440 ppi is the sweet-spot for five inch phones it seems. I can't over emphasize this enough, this screen is a constant joy to look at and makes this device a pleasure to use. I have been switching between this a Nexus 4 running CyanogenMod and it always makes me smile to switch back to this beautiful display. It is protected by Gorilla Glass and despite not have a cover or protective screen on at all has not had a scratch. As far as I am concerned the screen IS this phone and it is wonderful.
Design
Being mindful that anyone and everyone could read this review I will choose my words carefully here. If someone described this phone to me as looking exactly like a Samsung Galaxy S4 with branding incredibly similar to HTC I would completely understand their confusion. The ThL W8S has been mistaken for an S4 a minimum of twice a week since I've owned it. I personally don't want to give the impression I just buy the most popular phone like everyone else but as the S4 is such a really, really good phone I can't really bemoan the comparison. The decision to place the mini-usb port on top of the phone with the earphone socket is a bit of a departure from the more common option of the bottom of the phone but easy to learn to live with. The silver ridge which runs uninterrupted along the entire upper edge of the device is plastic but thankfully of a decent quality plastic so it doesn't feel particularly cheap, looks and feels quite good. The inclusion of capacitive menu and back buttons on either side of the main home button on the front does seem a little superfluous but you do actually use them quite a lot, more so you have can see the screen uninterrupted. Overall I'm happy with the design.
Public reaction and side-by-side comparison
I feel the need to point out that I've tried to be a little harsh in the hardware and design sections for this review on purpose as I really like this phone but want to present as fair an assessment as I can. To counter-balance the above couple of paragraphs I want to briefly describe the reactions of others who have seen this phone since I've owned it, a couple of friends and plus a good few work colleagues. They all thought it was an Samsung Galaxy S4. On first look whilst passing my desk people all made the same mistake and similar when I took it out of my pocket at the pub. When picked up it was still mistaken as an S4 by two slightly less tech-savvy work-mates and two who actually owned S4's only properly noticed the difference when they picked it up. Collected comments include:
"It feels sightly heavier and thus more substantial than my S4 (154g vrs 130g)"
"It looks slightly less refined than the S4 when you get up-close"
"Are they allowed to do that with the design and markings?"
And most commonly from each and every person:
"How much? REALLY???"


Side-by-side comparison to a Samsung Galaxy S4
Software
The W8S uses Android 4.2.1 Jelly Bean. This is a couple of mini shuffle-steps behind the most recent version 4.3 but you are not missing anything amazing. I was originally worried about the way the storage was partitioned fearing I would run out of app space. It is formatted as Internal Storage and Phone Storage: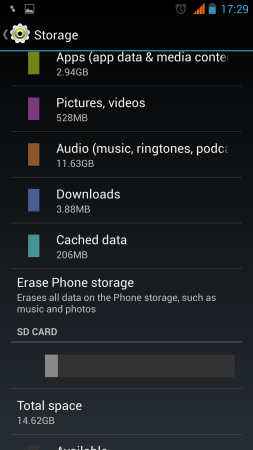 I feared 3.94 would disappear pretty quickly when some games were added. Upon further investigation I have found that although the system apps have the location they are stored on the phone greyed out most if not all downloaded apps have the option to be moved to phone storage.  You can in fact set the installation location of new apps to either internal or phone storage. Awesome! Sorted, enough app storage 'til the cows come home as you can also have and SD card up to 32gb.
The W8S comes from a country where Google is not king, not as much of an all encompassing online and mobile phone presence and this shows in a number of ways in the pre-loaded apps. You don't get Chrome but the standard Android phone browser common in phones ICS and before. This had more advantages than I would first think including full flash support (the Adobe Flash Player app is currently on version 11.1.115.8) plus whenever you click play on any video it gives you the option to save onto the phone or play the video as normal. Neat. The inbuilt music player has a pretty decent equalizer option and does seems to produce a fuller sound compared to the Google Play app. Below are the automatically loaded apps:
There were quite a few omissions including Google Play but thankfully everything easily downloadable. When I get a new Android phone I use the incredibly convenient application Titanium Backup to load a whole crop of my favourite apps straight onto my new gadget.  I then spend the following few weeks reviewing which I don't need with the current phone I'm using. The main reason for deleting apps is that the current skin or preloaded app already has the functionality built in. I am happy to report that all apps run flawlessly on this phone, the 2gb of ram able to handle many apps running simultaneously, and baring the very occasional unexplained app shut-down I'm more than happy to recommend this to anyone from novice to hardcore Android user for it's capabilities.
I'm not a fan of benchmark tests, they can vary quite a lot depending on what the state of the phone just before the test is run, if it is a phone that has just been turn on from cold, and recently it has been discovered that certain manufacturers program their phones to recognise when a benchmark tool is being used and artificially dedicate more resources to running it. This was a specific request, not just from the readers but also fellow writer so below are the best and worst benchmark test results:
GPS
If you Google 'MTK6589' and 'GPS' you will find a load of posts from many people complaining about the GPS. Comments like ,slow to respond,  'non-responsive' all the way to 'just plain broke' are common. I have to confess to this really not effecting my use of the phone at all as I live and work in NW London the amount of cell towers and plethora of wi-fi hotspots means location based apps are always quick to respond. I tried disabling the GPS and it definitely took  longer to find my location. However when I tried to test the GPS on several apps from the play store it none of them managed to finish the test. It recognised satellites up there but didn't seem to be able to lock on particularly well (if at all in many cases). There are many fixes available for this but after trying a couple  with no success I took the lazy route and decided to leave it. My Foursquare, Facebook and Twitter check-ins work fine, my Google maps always finds me to within a street or so away and that's good enough for me. My main disappointment with this phone.
Camera
I didn't find the camera amazing but then I am pretty far from a good photographer. It says 13 megapixels on the camera lens and listings but when you get to the Antutu test or internal hardware check it is 12.6mp. I took the following photos whilst in Regents Park at the start of September:
Overall I found it fine for day to day use, not amazing but better than the 8mp shooter on the Nexus 4.
*Sunny day and poor photographer warning* – feel free to click through to my dropbox folder for more including some terrible sunshine glare by clicking here.
Day-to-day usage
Weighing 154g makes it a very easy to carry and use as your daily phone. Size-wise it's a bit too big to fit into some trouser pockets and just about passes my 'one-handed test'. This simple test of ergonomics consists of holding the phone in several single handed poses and  then trying to reach all four edges with your thumb. The second part of this test is more idiomatic and involves seeing how easy it is to perform several common used functions (music player, texting, phoning someone, checking e-mail) one handed or at least until forced to get a second hand involved. Again the phone is very nearly too big but as it's not really a huge phone by today's standards it is very much a personal feeling. The battery would only last until about lunchtime as I listen to a lot of music / podcasts on the way to work and during the morning.However as I work in an office it normally gets plugged into a usb port by about 11am to ensure I've loads of charge for lunchtime and the same before I leave the office in the evening. I think I could get through day until 6pm-ish with my usual battery punishing activities if I swapped the battery, lucky it came with two.
Conclusion
Ok, let's get this out and stated clearly; this phone is not as good as the Samsung Galaxy S4. You could buy this phone and if you were not quite technically savvy it could get away with giving the impression it 'is' an S4.  It looks like an S4, has good software a tiny shade behind the S4 but no features that you would actually miss. It can run all the software of the S4 barring the Samsung apps. It does not have a bad feel when you hold and use it but it is just not as good as the more premium feeling Samsung device.
Right, now that is said, I really, really like this phone. It tries to do everything, be everything you'd want from a smartphone. It is very cheap compared to the flagship devices of any other manufacturer and this is ultimately it's downfall. You simply cannot sell a product at less than half of the price of phones it is trying to compete with without sacrificing something. That something is the overall build quality. Please don't misunderstand, this is a fine phone, fully functional and fit for purpose. However it is manufactured with lesser quality outer casing and buttons, only three but that's enough to notice. The software experience is mostly great but has a tiny amount more gremlins than you would expect. For example, I think every smartphone owner has had an unexplained screen freeze, an unexpected phone restart or one or two other tiny, idiosyncratic foibles with their devices. These hiccups are part and parcel of turning our phones into powerful mini computers. They just seem to happen a bit more frequently than I'd like on the W8s. I would be a lot more harsh on the lack of GPS functionality if I it effected me more but as it really doesn't i is just a disappointment, proving that without using more reliable components this manufacturer will never reach the heights of the other major phone makers.
Last comments then. This is a really good phone and amazing for just over £180. It can do pretty much everything that the top level phones from other companies do at a fraction of the price. However it doesn't feel as top quality as these other phones and will probably not last as long due to lesser quality build materials used. As long as you bear this in mind you will love owning this phone, if you really really want a HTC One / Samsung Galaxy S4 then it will fall short by a reasonable margin. The screen is epic, thankfully no expense spared and as this is the bit you spend almost all of your time looking at I'm happy to recommend this phone.
ThL W8s
Design - 6.5
Hardware - 8.1
Software - 7
Camera - 7
7.2
Phenomenal screen and low price puts this handset into a league of its own, making up for some lower spec components and very occasionally anomalous software