The Nexus 5 could almost be compared to the Loch Ness Monster.  Several people claim to have seen it, there are pictures and video but it has never been officially confirmed that it exists.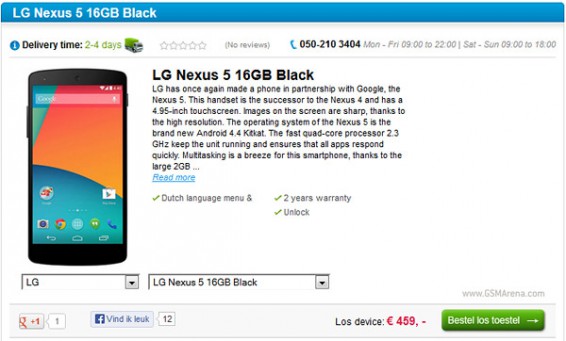 That however hasn't stopped a Dutch site (Belsimpel) from putting it on sale for 460 euros, in both black and white with delivery being promised in between 2-4 days.
The specs are as expected, 5″ 1080p display, Snapdragon 800 running Android 4.4, 8MP / 1080p main camera, 1.3MP front-facing camera, Wi-Fi 802.11ac, and a 2,300mAh battery with wireless charging.
Clearly someone has jumped the gun here a little as the handset has not been officially announced but it may well point to the fact that the release date is imminent and that supplies are already in place.
We are still waiting for word from Google as to what is actually happening but like everything else I am sure it will leak out soon enough.
source: GSMArena