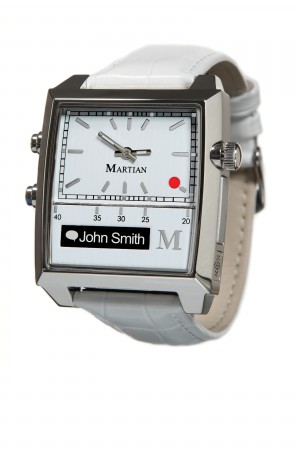 The Martian Watch is a very nice looking smartwatch. It'll connect to your phone via Bluetooth and lets you send voice commands. An app on iOS or Android will let you get full control of your phone and let you configure it too.
The watches are, I must admit, pretty gorgeous to look at. They feature a microUSB port for charging, analog quartz action (I love how it they call it a "Japanese movement"), a 96×16 pixel OLED display, directional speaker and a 7-day standby time with 2 hours of talk time. You can get them for between $249-$299 here and it looks like you can get them delivered to the UK.

So, we went looking for some additional images to go with this story and found this video of someone showing the Martian smartwatch in action. Trouble is, I spat coffee all over the screen and now my monitor is pretty ruined.
The guy says "I love you Bro" and then proceeds to use the word "Period", which just got my back up. He also has a conversation with some utter tool about some crazy get-rich-quick scheme called "Rippln".
Livin' the dream man, livin' the dream. Hangin' with the Jetsons.
"Chou". Yeah… Chou?! Honestly? There's something wrong with this bloke. I can't put my finger on it, but I think he's been manufactured somewhere..
http://www.youtube.com/watch?v=xmyDl3vl96E
Here's a slightly more sensible video..
https://www.youtube.com/watch?v=DPhVIALjxzo&feature=youtube_gdata_player