Y'know, some people think I'm bonkers, but I just think I'm free. I'm just living my life, there's nothing crazy about me.
Now I've given you a personal insight into my life, come and have a look at my 27 foot-wide Windows Tablet.
I wake up everyday, it's a daydream. Everything in my life isn't what it seems, but this actually is. Dizzee Rascal, who's real name is actually Dylan, seems to have gone a bit bonkers (geddit) on the specs with his new tablet, and has took to the stage to show off the new Surface 2 and Surface Pro 2 from Microsoft.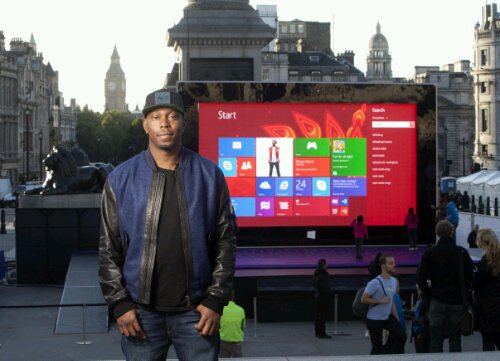 Dizzee Rascal, who didn't use the word "like" or "innit" once during his photoshoot, stated..
I'm never in one place for long – whether it's in the studio, on tour, I'm always travelling about and now I can combine work and play on one device – works for me!
Tsk, and there was me thinking that he only cared about sex and violence. Apparenly a heavy bass line is his kind of silence.
The Surface 2 and Surface Pro 2, or possibly the 2 Pro (it's a little unclear in places) are on sale at your local electrical store this Christmas. Buy one for yourself or, as a present idea, go buy one for a friend or relative. I'd keep the receipt if I were you though, as they'll probably want to take it back and get an iPad.