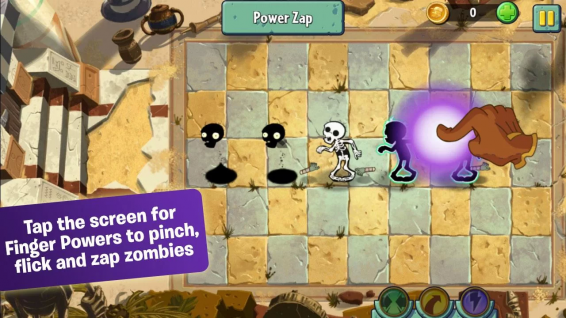 I have to admit that I am one of the few people that did not play the original Plants vs Zombies however apparently Plants vs Zombies 2 is now available on the Google Play store.
The follow up to the hit game from Electronic Arts "brings the fun" to tablets as well as mobile phones and features more zombies, more plants and more of just about everything else.
The Play store description is as follows:
Description

The zombies are coming… back. It's about time! The sequel to the hit action-strategy adventure brings the fun to tablets and touchscreens. Join Crazy Dave on a crazy adventure where you'll meet, greet and defeat legions of zombies from the dawn of time to the end of days. Amass an army of powerful new plants, supercharge them with Plant Food and power up your defenses with amazing new ways to protect your brain. Battle zombies from all worlds in the front yard Piñata Party mini-game to win big prizes. And that's just the beginning! The future holds many mysteries… also zombies. Lots and lots of zombies.

Game Features
• Meet powerful new plants that will defend your lawn through time
• Go toe-to-missing-toe with dozens of new zombies
• Supercharge your floral friends with healthy doses of Plant Food
• Fire up amazing Finger Powers to pinch, flick and zap zombies
• Defeat brain-teasing challenges that will test your zombie-zapping skills
• Take on zombies from all worlds in the Piñata Party mini-game and win prizes
• Gather keys to play valuable side missions
• Collect coins to purchase potent power-ups
• Earn stars to take you to new worlds
• Connect to Game Services to unlock achievements and compete against friends on the leaderboards
• Look out! Zombie chickens!
Language Support: English, French, Italian, German, Spanish, Brazilian Portuguese

Requirements:
• Requires Android 2.3 (Gingerbread); ARMv7 1.0 Ghz or higher; 1 GB of RAM
• Features may vary by mobile device
Now as I said I didn't play the original and I can't see a lot to make me want to download this version but if this is the type of game that you play then Plants vs Zombies 2 can be downloaded for free from the Google Play store.