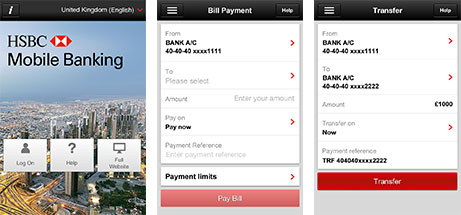 HSBC have released a brand new mobile banking app which brings the majority of their online banking features to the mobile arena.
The brand new app which is available on both iOS and Android has features whereby you can:
View balances and up to 90 recent transactions
Make bill payments to existing beneficiaries
Transfer funds between your HSBC personal accounts
Read secure messages
After registering and setting up user id's and passwords on the HSBC mobile site you can then download and access the app and voila! banking on the go.
The new release brings HSBC into line with all the other major banks in that you can now transfer funds and pay bills wherever you are provided you have a data connection.
As ever, security is paramount.  You should always guard passwords securely and ensure that you logout after each session.
The app can be downloaded from iTunes or Google Play for free