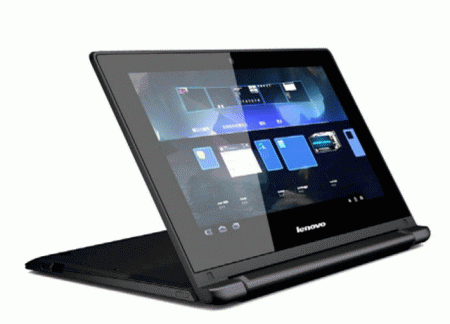 Lenovo have long skirted around the edge of the Android world, releasing the occasional smartphone with no real success. This time, however, they're aiming at their core marketplace with the A10 android powered laptop.
This is another strange bit of toe-dangling though, because what is an android laptop if not a tablet with a keyboard attached. This niche has been dominated for years by the Asus Transformer series, who's TF101 became an instant classic when it was released with its docking dual battery keyboard (despite it running Honeycomb!).
Here's what we know of the spec list:
1.6GHz quad core Cortex A9 CPU
2GB RAM
32GB internal storage
microSD card slot
0.3MP front facing camera
Stereo speakers
10.1-inch HD flip over display with a resolution of 1366 x 768 pixels and 10 point touch compatibility
Android 4.2
So what will the A10 offer that the latest Asus Transformer Pad TF701 won't? Not a lot it seems until you get to the price – $250. At the current exchange rate that's about £155 versus the TF701's expected tag of about £600.
Clearly this means Lenovo aren't aiming to be a giant killer with the A10 then. But what they could take a chunk out of is the Chromebook customer base.
I'm a big fan of the Chromebooks, in fact I'm typing this article on a Samsung Series 5 right now, but the entry level models weigh in at around £200. With the Lenovo's extra features and apps this would be a very tempting alternative.
Bai Peng, vice president and general manager, notebook business unit, Lenovo Business Group said,
Lenovo claims that the A10's battery support is up to nine hours of continuous video playback – which needs to be scrutinized under review. "With the recent explosive growth in Android-based, smart connected devices, customers are relying more on Android apps for both work and play. Why should they be required to switch and duplicate to use their laptop? Lenovo's A10 brings ultra-portability and dual-mode benefits to Android users at a reasonable price. Thin and light, with multiple modes and user-inspired innovations for an outstanding user experience … the A10 is uniquely Lenovo."
After the rumours of Lenovo buying HTC it's good to see them already reinvesting in Android with an innovative and good value product.