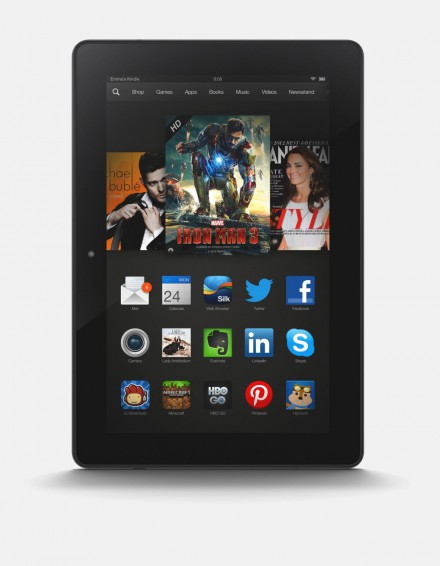 The Kindle Fire HD has already done really well and, although it was initially marketed as an e-reader, you're bound to find plenty of Angry Birds filling out the devices up and down the country.
Now there's a new version, and you can choose between a 7″ or 8.9″ screen. The 7" version is £199 and already available for pre-order. It'll be shipping on November 13th. However, there's a 4G version too. That's £269 and starts leaving warehouses on November 27th.
You can pre-order that version here. If you need a slightly bigger screen then the 8.9" Kindle Fire HDX is … eversoslightly more expensive at £329. That'll start rolling on November 19th (pre-order here) or get the 4G version for £399 here, although that one won't be available until December 13th, so it could be a bit late if you're looking for a Christmas present.
But wait, I'm getting ahead of myself. You'll want to know the specs! Firstly, these new puppies have a quad-core 2.2 GHz CPU which is three times faster than their previous generation and extremely powerful for a tablet. The screens are 323 ppi (7″ version) and 339 ppi (8.9″ version) and the OS has been given a face lift with an updated email, calendar and browser too.
There's parental controls which are simple and easy to setup, so you can select not only content types but time limits too. Very good stuff.
Battery life is pegged at 11 hours of "mixed use" and 17 hours of reading plus there's twice the memory and dual stereo speakers with Dolby Digital Plus audio. This is definitely not just an e-reader.
Vodafone will be picking up these devices, with 3G and 4G plans. There's a twist to this too, because Vodafone will actually be offering them in store, with the SIM card in, all ready to go. You get it home and turn on the device to simply sign up to the Internet Starter Pack. If you don't use much data then you can have 5GB for 3 months, which includes 20GB of Amazon cloud storage and vouchers for a one-off hit of £25. After those three months expire, you just choose another package if you wish. Simply put, it's an excellent present package.
So what do you get? Well, these are light and well-made devices – the 8.9″ HDX os the lightest large-screen tablet – and easily plugs you into LOVEFiLM for watching your favourite movies. There's 27 million films, TV shows, songs, apps, games, books, audiobooks and magazines to choose from, so you should find something you like.
What is interesting, at least from my geeky perspective, is how Android (which is at the heart of this tablet) is quietly tucked even more deeply under the carpet. One line in the press release states..
If an app runs on Android, it can run on Fire OS.
Well yes, it would.
http://www.youtube.com/watch?v=PFYHF1w8w3g