As mentioned in this weeks podcast, 2013 has very much been LG's year.  With the relative success of the Nexus 4, the rumoured Nexus 5 and the release of the much vaunted LG G2 what was a bit part player in the Android ecosystem has become a big hitter.
Each manufacturer does of course have more than just their flagship handsets to think and shout about and LG kindly provided us with one of their L7 II mid range handsets for review.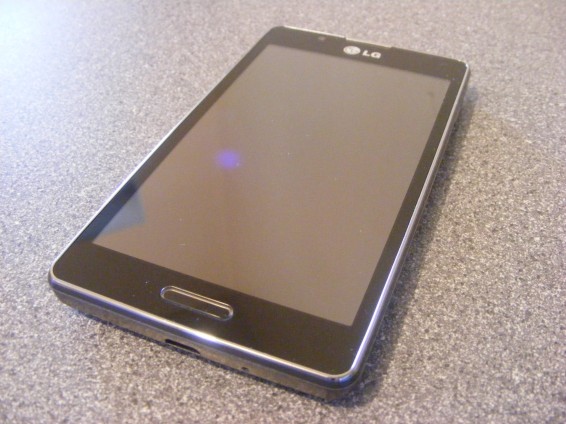 Hardware
Out of the box the LG L7 II certainly looks the part.  The black bezel is surrounded by a chrome edge giving a higher end look than the price point belies whilst the rear is a brushed aluminium effect.  When picked up however the premium feel fades a little for it is very very light and feels rather plasticky.  That been said, there is no noticeable creak or flex and the build quality feels rather good.  It is not a handset that feels like it will fall apart if it is dropped.
The LG L7 II has some fairly decent specifications :
4.3" 480 x 800 WVGA screen
Android 4.1.2 Jellybean
1.0 GHz Dual Core processor
2460mAh battery
Bluetooth 3.0
USB 2.0
A-GPA
NFC
DLNA
Wi-Fi- Direct
8MP Rear camera
FM Radio
768MR Ram
4GB Onboard storage
Qslide / Quick Memo / Quick Translate / Cheese Shutter / Quick Button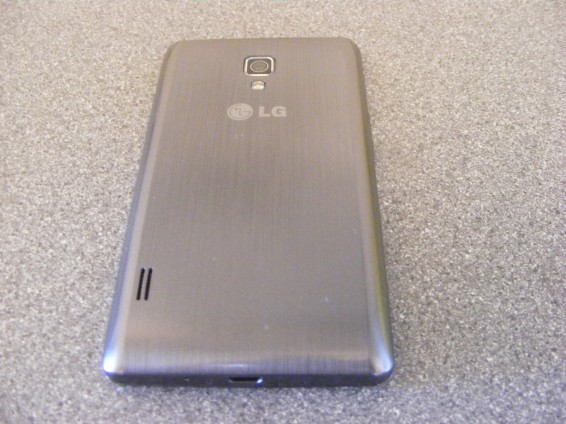 Unlike the LG G2, the button placement on the L7 II is a standard affair.  On the bottom is the microUSB charging port and a microphone, the right has the power button whilst the top houses another microphone and the 3.5mm headphone jack.  The left hand size houses the volume rocker and LG's proprietary programmable Quick Memo button.  The back houses the 8MP camera, flash and external speaker.  Below the screen is the home button with its glowing LED surround as well as the back and menu buttons.
Remove the plastic back panel and you will find the SIM card tray and the MicroSD slot.  The MicroSD card is vital as the L7 II only comes with a measly 4GB onboard storage which is nowhere near enough for todays needs.
In these days of full HD screens with ridiculous DPi's it's difficult to remember that there are still plenty of devices that don't yet have super duper all singing all dancing screens.  The L7 II is one such device where the screen can be classed as adequately bright, adequately clear and perfectly sufficient to do the job required of it.  It doesn't stand out but it also doesn't shame itself.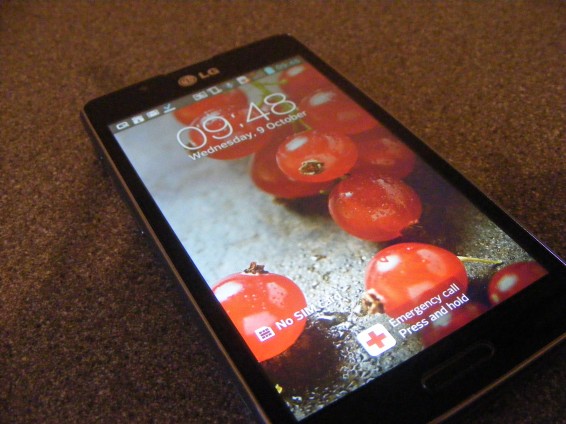 One thing that I really like is the implementation of the glowing LED notification light.  If manufacturers persist in having physical buttons on the front of a device then do it the LG way.  There is a thin LED strip around the outside of the home button that glows a different colour based on the notification being communicated.  Its only a small thing but its very well done and is a neat little feature.
Software
As with most manufacturers LG have overlaid their own skin – the Optimus UI – on Android 4.1.2  All the major apps such as the calculator, calendar, contacts, gallery, messaging, music, dialler and settings have all had the LG treatment however this doesn't detract from the usability or look and feel of the device. All of the standard Google apps are present including maps, Play Music, Chrome, Google +, Magazines etc.  As would be expected with a device of this ilk, there is a slight lag when opening apps however with this specification it is a small price to pay.  Pulling down the notification bar gives quick access to the toggles which include a toggle for quickmemo, NFC, wireless hotspot.  The option to edit the toggles is also given.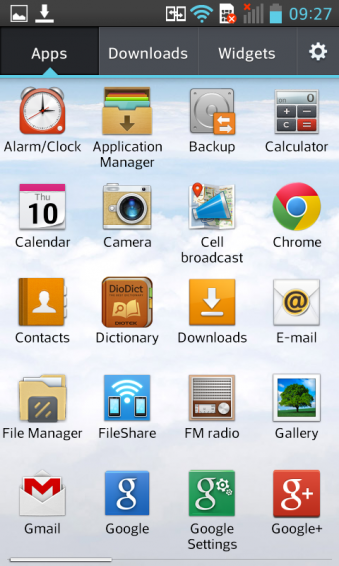 As usual with non stock Android devices, LG have attempted to differentiate the L7 II with some inbuilt features.  The first is Quickmemo which enables you to take an image and scribble all over it before saving it, thus creating a quick memo.  A good idea and a good implementation, how much use it sees remains to be seen.  Quick Translator is next, this scans written words and translates the text into a language of your choice.  A connection means that whole sentences can be translated at once, offline and only one word at a time can be converted.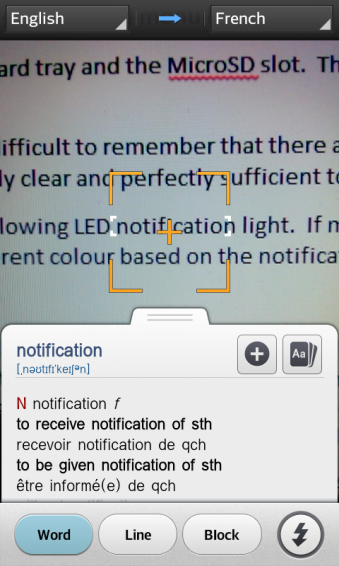 Also included is an app called Safety Care.  This app lets people know people you select your emergency situation,  it enables emergency call forwarding, non phone usage notifications and a location notice.  Whilst it would be hoped that it never gets used it looks to be quite a good app, particularly if the phone is for a child.
Qslide is another built in app that enables you to do things like text whilst watching a movie by running a transparent layer above the background app.  Despite the fact that the app framework was definitely installed I could find no way of making this work!  This could simply be me though and it is probably quite simple when you know how!
Another app that is preinstalled and  runs in the background is Smart-screen.  As with Samsung's version, this monitors when your eyes are looking at the screen and keeps the device awake.
LG doesn't use the standard Android keyboard, preferring instead to include their own.  This doesn't prove a problem as the version supplied is perfectly functional and easy to use. Whilst is doesn't include the Swype style functionality it does word suggestion and auto correction.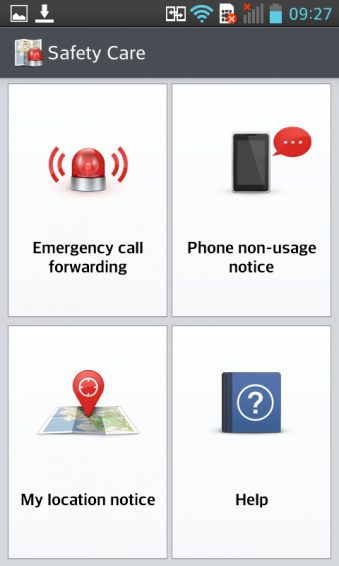 The preinstalled LG apps are simple to use and all quite self explanatory.  With the exception of Qslide (which is probably just my ignorance) they all work well and actually add to the handset and whilst the LG L7 II isn't running the latest 4.3 version of Android it really doesn't matter.  It doesn't feel like anything is missing or that additions need to be made.
Camera
The camera is an 8MP version with a couple of good features.  The first of note is voice activation.  Say one of a number of predefined words such as Cheese or Whisky and the camera will take the picture for you.  Ideal for the current trend of "selfies".  Another good feature is Continuous shot.  This takes six photos, one immediately after the other, I can imagine this being great for creating Auto-Awesome's on Google +.
There is good control over various camera features with the ability to set the ISO, white balance, change the colour effect, add a geo-tag and change the brightness.  A deal of thought appears to have gone into the camera on this particular handset
As would be expected on a handset of this nature, outdoor images in good lighting conditions are more than acceptable whilst images in lower light tend to suffer.  There is a sample of images at the bottom of this review!
Conclusion
I didn't have great expectations of the LG L7 II.  A lower priced mid-range handset in todays world of Samsung Galaxy Mini's and HTC One Mini's didn't feel like it was going to cut it for me however despite the lower screen resolution and slightly plastic feel I am actually quite impressed.  The LG apps are good and not overblown, the screen is more than acceptable with stunning viewing angles, speaker sound is good and so is call quality.  Web browsing is fine if not the speediest and the camera produces good images.
Here is the problem however.  The LG L7 II is good.  Everything about it is acceptable or good but not remarkable.  There is nothing remarkable about it and that is the issue.  For a handset to be great it needs to have an outstanding feature and unfortunately for LG the L7 II lacks this.  That said, the L7 II is a good handset that would would be more than acceptable to use on a daily basis and one which for the current  SIM free price of around £200 represents good value.