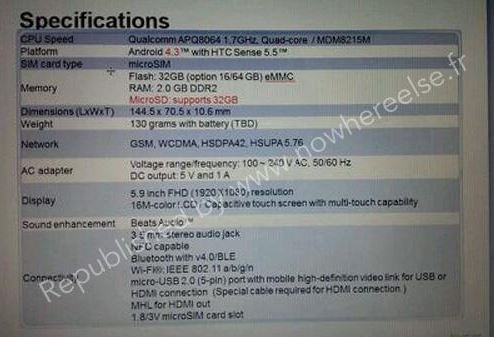 I'll try not to mention it, but it's "that" time of year soon. New handsets, like the HTC One Max are right around the corner. We've already seen specs but now there's this, a photo of a screen. It's taken from the Twitter feed of @stagueve and quotes the following specs..
CPU – Qualcomm APQ8064 1.7GHz quad-core / MDM8215M
Platform – Android 4.3 with HTC Sense 5.5 (Y'know, that one we saw leaked earlier)
SIM Card Type – microSIM
Memory – 32GB Flash (option 16/64GB), 2GB RAM and up to 32GB microSD
Dimensions – 144.5 x 70.5 x 10.6
Weight – 130 grams with batery
Network – GSM, WCDMA, HSDPA 42 and HSUPA 5.76
Display – 5.9″ FHD (1920×1080), 16 megapixel capacitive touch screen
Sound – Beats Audio
It also has Bluetooth 4.0, NFC, 3.5mm audio, WiFi, a HDMI output and the standard microUSB connector. This all sounds similar to the earlier leaks and puts it well into the "well spec'd phablet" category.
Update – Another shot has popped onto the web which shows the One Max in action below..