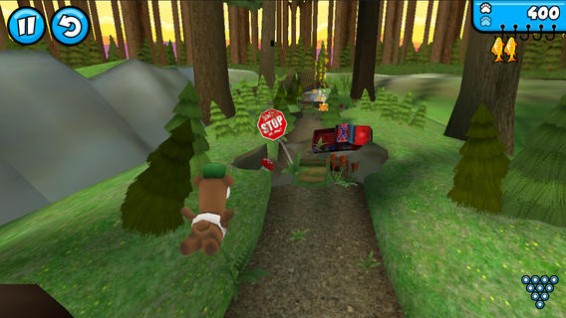 Got yourself 69p? Want a game that'll keep you occupied for a while? Well I've got me some PR babble for you, so sit tight.. Rollabear is now available on iOS and features Bubba Bear, Poppy the panda and Otis in this magical 3D animated world. You can fly, roll and fall as you try to do something with golden boxes and a magical time-warping fish.
I know. I don't know who comes up with these game concepts but hey…
Anyhow, you can roll through the Rockies and collect fish whilst smacking Hillbillies into the ground. There's 60 levels, 6 chapters, 3 worlds and "beautiful bespoke animation" plus unlockable levels and simple controls. It's fun, addictive and there's 20 characters to play with.
If you don't have an iDevice you'll have to wait a little longer. Rollabear will be coming to Google Play, Amazon and Windows Stores later this year.