Yesterday a lot of people picked up on the fact that Windows Phone was hitting a 9.2% sales share across five major European markets. Those five markets? Great Britain, Germany, France, Italy and Spain. Wehay! Surely it's time to party, yes?
It must be. Here in Great Britain and over in France the news is even better ..
Windows Phone has hit double digit sales share figures in France and Great Britain with 10.8% and 12% respectively – the first time it has recorded double digits in two major markets.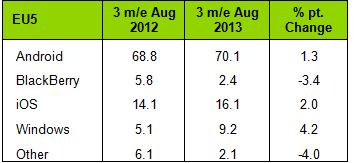 There's stacks of figures to go through and we can see that Microsoft and Nokia seem to be turning a corner.
Erm…
But wait. If we dig a little deeper and download the full details we can indeed see that the Smartphone OS Sales Share in France shows Windows Phone jumping from 5.6% to 10.8% in the last year. In Great Britain it's jumped from 4.5% to 12%, in both cases it's mostly at the expense of BlackBerry. In America the news isn't so good, with Windows Phone grabbing 3%, only nudging up 0.4% on last year. Don't even look at China, where figures are down from a 4.7% "sales share" to a tiny 2.1%. In Spain things are largely unchanged.
Are these real sales figures? Do we know the market share now? Can we say for definite that Windows Phone is seeing a promising uplift? Well, it's.. tricky. These figures are, according to Kantar Worldpanel, made from …
…information .. based on the research extracted from the Kantar Worldpanel ComTech global consumer panel. ComTech is the largest continuous research consumer mobile phone tracking panel of its kind in the world, conducting over one million interviews per year in Europe alone. ComTech tracks mobile phone behaviour, including purchasing of phones, mobile phone bills/airtime, source of purchase and phone usage and delivers beyond market share tracking to understand drivers of share changes, market dynamics through consumer insight – the data included in this release is excluding enterprise sales.
So, no enterprise sales are included and this data is sourced from interviews. I'm sorry, but although this is encouraging I'm going to reserve judgement until I see some hard sales figures.