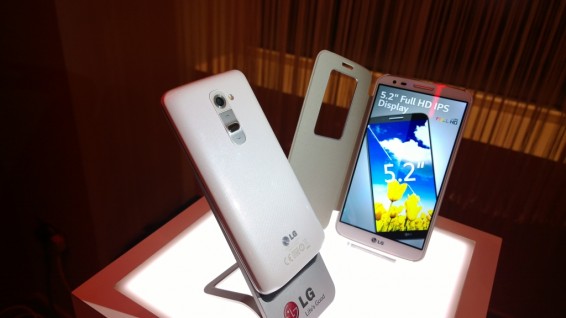 The LG G2 was announced on the 7th of August in New York and in true LG style the UK sort of got left behind, the G2 is only just starting to appear at retailers and networks.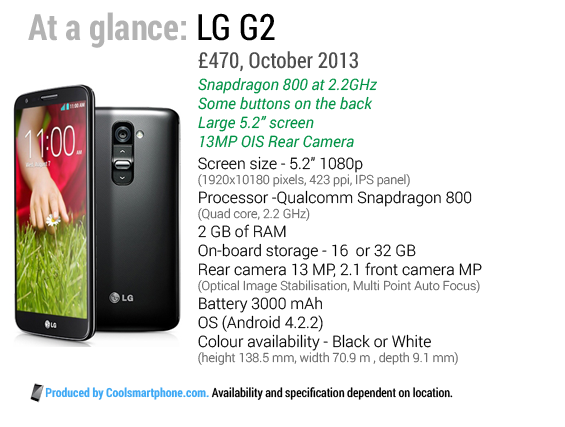 Last night we attended the UK launch party in London and here are my initial impressions  and a load of pictures of the device. The main things I wanted to check out was the screen quality, the camera and the rather unique rear buttons. So how did they all shape up?
So the LG G2 is a rather nice device in looks and in performance, it has top of the range specs and a whole host of software additions to allow it to compete with the likes of the Samsung Galaxy S,4 the HTC One and the Google Nexus 5. So in no particular order here are some of my thoughts about the LG G2.
The main thing the LG guys wanted to show us was its video capabilities, 1080p videos look glorious on its screen, there are also some fancy things that the video player does as well. Firstly you can zoom in on a video whilst it is playing, with no noticeable lag or glitching. Secondly there is something called audio zoom in video as well, so if you recorded a video of five people talking at the same time you can highlight one person and it plays only their audio. Impressive stuff but I'd love to see how these things actually work in the real world.
Knock On the double tap to wake function is pretty cool. You double tap to wake the device and then you can unlock as normal, you can also double tap the screen again to lock the device and turn the screen off.
The open panel flip case is pretty cool, it lets you unlock the device by flipping the case open and also it is made of the same material as the G2 backplate itself so it flows seamlessly.
The screen viewing angles are great, as good as my Note 3. Being an IPS display it seemed a little duller and little less saturated.
The camera has a load of different modes and options, the performance of the camera was comparable to my Lumia 925 and slightly better than my Note 3. Again real life testing will be called for here. The same goes for OIS video capture which seemed a little jumpy when we tested it.
There is a guest mode which allows you to set up a guest area which is accessed by a different unlock code, this mode allows you to choose which apps you allow to be used by your guest.
The homescreen allows you to edit icons and change them into 1×1 or 2×2 icons. Further fiddling allows you to create something a bit akin to Windows Phone or Blinkfeed in appearance.
Miracast streaming to a large screen TV was amazing, we played a few games streamed from the G2 on a huge 52″ screen and it was great fun.
LG have added an additional multi tasking mode to the G2, in addition to the normal Android one, swipe an app away with three fingers and it gets added to a multitasking app. Swipe in from the left and you get a fancy display of ready apps.
The LG software doesn't seem anywhere as bloated as Samsung Galaxy software
The rear button really makes sense when you have it in your hand, it will definitely took some getting used to though.
Lastly the white one looked amazing.