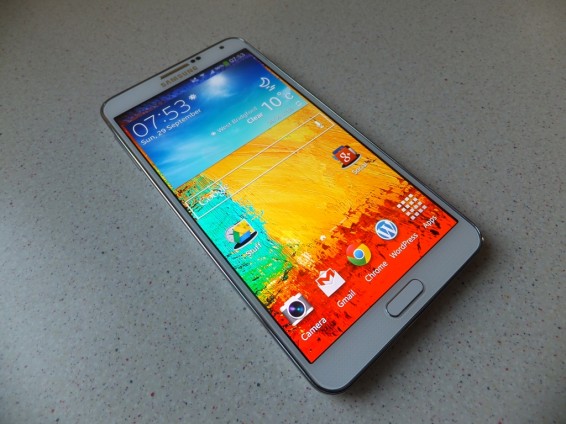 The Samsung Galaxy Note 3 arrived on my desk a few days ago. The Note 3 marks the third generation of the Galaxy Note range, it also marks the third Galaxy Note that I've owned. So as is often the case with a new device here at Coolsmartphone I'm going to post my initial impressions, starting with my good and bad my points.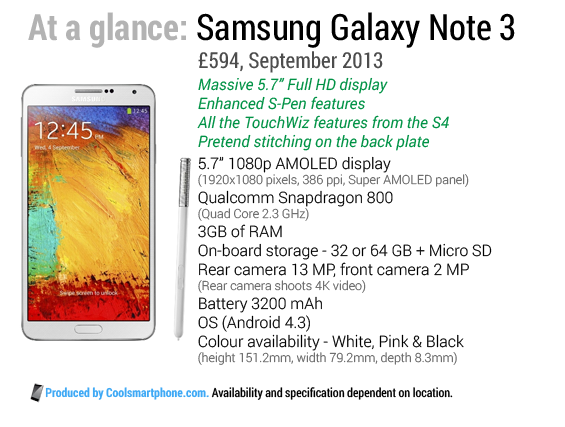 Good Points
Amazing screen
Good camera
IR Blaster
Some genuinely useful software additions
Bad Points
Backplate isn't for everyone
Shear amount of settings is a minefield
Wireless charging is an additional accessory
USB 3 port is unsightly
Design
A few years ago there was a phone called the Samsung Galaxy S2, the Galaxy Note 3 seems to take its design from last year's Note, the S2 and a whole load of inspiration from the Galaxy S4.
Previous generations have been rather plasticy and gloss finished, this year the white glass on the front has an interesting triangular effect under the glass and the super shiny hyperglaze backplate has been replaced with a leather look panel instead, complete with pretend white stitching. The backplate is the one thing about the design that I'm just not sure about.
Other differences are the new position for the speaker, which is on the bottom edge. There is now an IR Blaster on the top edge of the device. Also there is now a rather large USB 3 Port on the bottom edge.
Compared to the Note 2 the Note 3 feels like a thinner, lighter and much more refined device. The fact that this thinner and lighter device comes with a vastly superior spec is amazing.
Hardware
Every year when the latest Galaxy Note is released Samsung always trump the spec of the current "S" device. This year is no different, it's almost like Samsung release the "S" devices as a test device to see if the latest version of TouchWiz can cope with the spec.
The spec of the Galaxy Note 3 is as follows:
Processor – LTE 2.3 GHz Quad-Core Processor
Display – 5.7inch (144.3mm)  Full HD Super AMOLED (1920 x 1080)
Memory – 32/ 64 GB User memory + microSD slot (up to 64GB)
RAM – 3 GB
OS – Android 4.3 (Jelly Bean)
Camera – Rear – 13 Mega-pixel BSI Sensor, Auto Focus camera with Smart Stabilization, LED Flash(High CRI), and Zero Shutter Lag
Camera – Front – 2 Mega-pixel BSI sensor with Smart Stabilization, Full HD recording @30fps
Connectivity – WiFi 802.11 a/b/g/n/ac, GPS / GLONASS, NFC,  Bluetooth® v 4.0, IR LED (Remote Control), MHL 2.0
Sensors – Gesture, Accelerometer, Geo-magnetic, Gyroscope, RGB, Proximity, Barometer, Temperature & Humidity, Hall Sensor
Battery – Standard battery, Li-ion 3,200 mAh
Dimension – 151.2 x 79.2 x 8.3mm, 168g
There are so many highlights to the spec, there really isn't much I'd improve upon. Possibly add wireless charging out of the box as opposed to being an additional accessory.
Software
Samsung this year have added a lot of additional software. Just like the Galaxy S4 the Note 3 contains a lot of settings and apps out of the box. To be honest I found it too much, luckily half of them seem to be turned off but the Note 3 sure took a lot of fiddling with on that first day with it.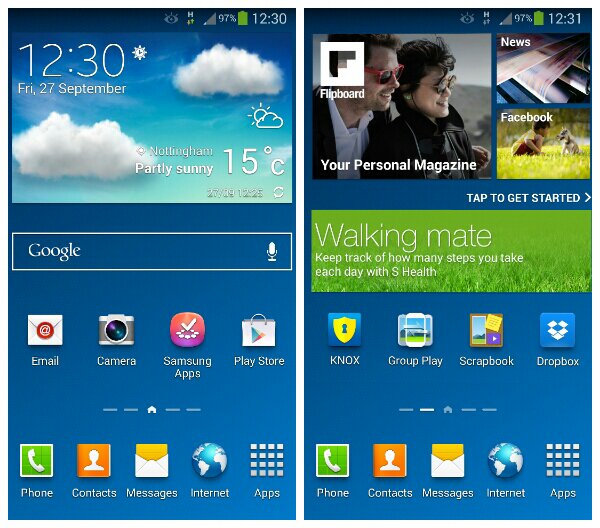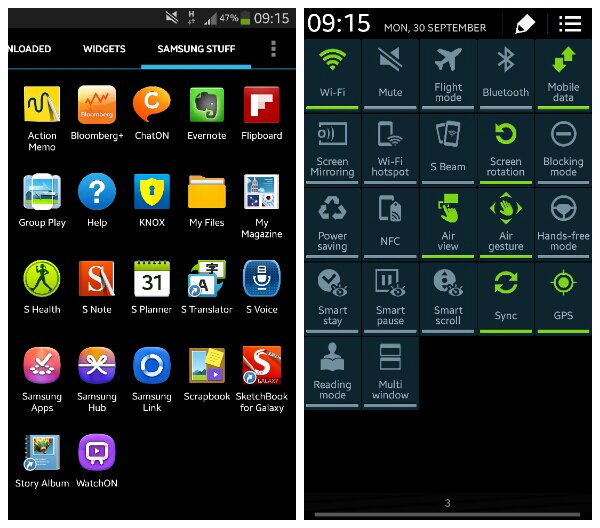 Initial Conclusion
The Note 3 seems like a great device, so far I've found nothing wrong. So much so that I really struggled to complete the "bad points" section at the top of the article. I'm basically going to be spending the next few weeks testing out all of the different apps and settings.
As this is only my initial impressions the full review will be coming soon, if you've got any questions or anything you want testing out just leave a comment below.
Lastly a big thanks to Clove who sent us this Note 3 to review. You can get the Note 3 from them here.