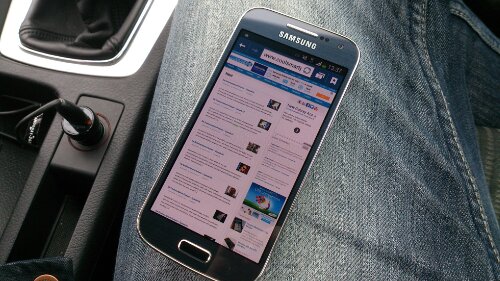 So, Samsung then. We should skip a few chapters straight off. It's a Samsung handset, so you know it's going to be a well-built thing and the UI is going to be a polished and elegant place to be.
The Galaxy S4 got a huge amount of attention when it launched but this, the S4 Mini (aka the GT-I9195), almost appeared without notice.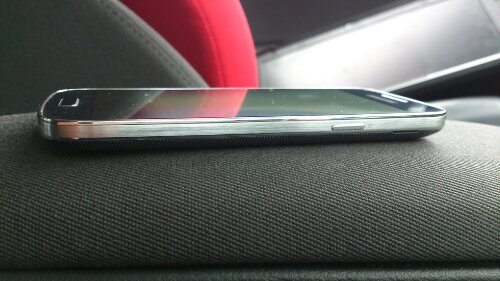 As with most "Mini" versions, it's not just the size that shrinks. The spec goes down too.. a bit… It's still good though. A dual-core 1.7GHz CPU, 4.3″ qHD Super AMOLED screen and an 8 megapixel around the back. Sure, it's not a quad-core CPU, 5″ 1920×1080 screen and 13 megapixel camera, plus you get a bit less storage too, but it's still a very good spec.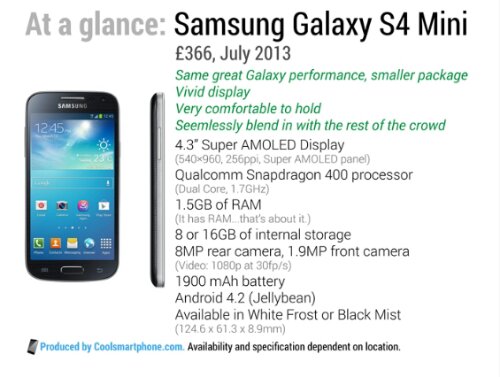 The full specs are as follows..
Specs
– 4.3"qHD (16:9 wide view) Super AMOLED screen
– 1.7 GHz Dual-Core Processor
– Android 4.2.2 (Jelly Bean)
– Camera Rear : 8 megapixel Front: 1.9 megapixel
– Camera Features – Sound & Shot, Night(Low Light Shot), Best Photo, Best Face, Beauty Face(include Live Beauty), HDR (High Dynamic Range), Panorama, Sports, Continuous Shot
– Connectivity – WiFi 5.0GHz a/b/g/ – GPS + GLONASS – Bluetooth® v4.0 (LE), NFC(LTE version only) – IR LED (Remote Control)
– 8GB Internal memory (User Memory approximately 5GB) + microSD (up to 64GB), 1.5GB RAM
– Dimension – 124.6 x 61.3 x 8.94mm, 107g (3G Dual SIM version:108g)
– Battery – 1900mAh
Outside
The device is light and has a very nice rear panel which has a premium feel to it. It's the first time I've spent a big amount of time with this black version and I have to say that I'm beginning to prefer it over the white one. The screen is definitely "tall" and it reminded me about how the screen profile looks on the iPhone 5 / 5s.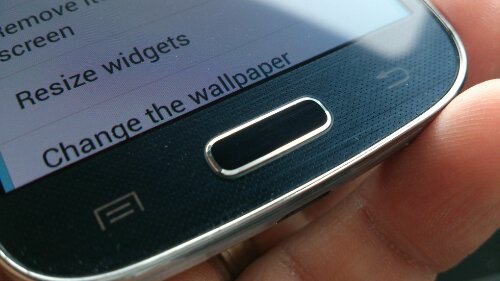 Up front you have a silver outer rim on the main panel and the same rim around the action / wake key at the bottom of the screen. Up top, and above the Samsung logo, there's the earpiece and the front-mounted 1.9 megapixel camera. The screen is remarkably bright and the colours are vibrant. There's really no problem seeing everything on there, even in direct sunlight.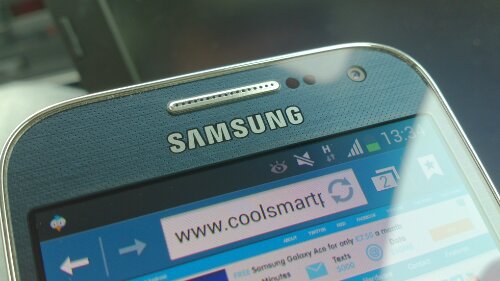 The edges of the handset are flat, only curving at each corner and are in a brushed silver aluminium finish. The right side only has one button, and that's your power key. You can remove the battery cover with your nail here too.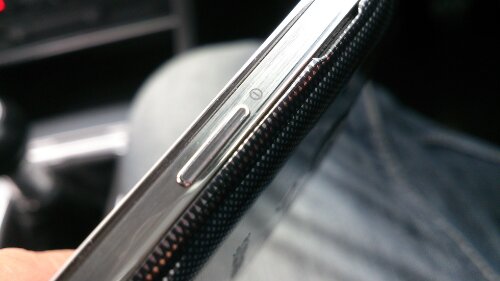 At the bottom you can find the microphone and the microUSB port for charging and moving files between your computer and phone.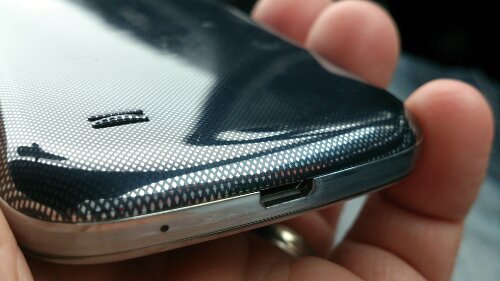 The left side has the volume up / down ….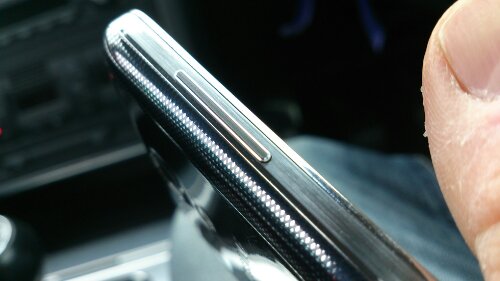 ..and at the top there's a second microphone for noise cancellation an IR port, which you can use for controlling your TV etc. More on that in a moment.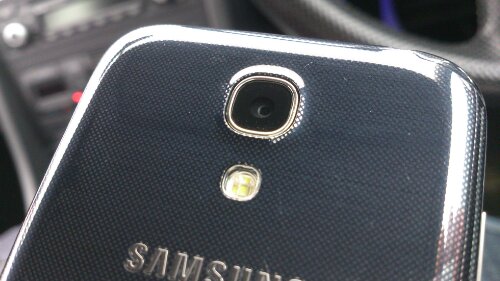 Hands-on video
Inside
This, in my mind, is where Samsung gets clever. They've already ticked a lot of boxes. The build quality is second to none, the design is gorgeous and they have the marketing budget to let everyone know. Inside the OS has a lot of Samsung-created apps and features which are both useful and fun. Not only that, but there's some nice little tweaks that really do make a difference.
First up, there's connectivity on tap and various different types. You can exchange data via NFC, which is useful if you want to use those NFC tags to make your S4 Mini do various things when you tap once of those clever NFC tags.  You can also use "S Beam", which is the Samsung terminology for sending files via NFC and WiFi Direct.  Not only that, but you can beam your pictures and videos to your TV or connected media device (like a speaker) via DLNA. There's also "screen mirroring" which, if you have a compatible device, will let you splat your mobile phone screen onto another screen. Good for demonstrating or doing presentations.
If all that isn't enough for you, there's Kies – a method for accessing your phone (and transferring pictures / videos etc) from your computer. You can send messages this way too, which is ideal if you're not overly keen on the on-screen keyboard. Oh, and that keyboard is cool too – you can, as you saw from the overview video above – change it to a Swype-esque system which makes data entry easier.
While we're in the settings screen I should mention how nicely it's laid out. On the "Connections" tab you;ve got all that stuff I just mentioned there, and you can disable or enable it all (and WiFi, Bluetooth), plus you can check on your data usage if you're interested. Flick over to the "My Device" and you can tweak your lock screen.
Yep. The lock screen. I'm going there. Normally I click into "Settings->Lock Screen" and I get a few options, but here on the Samsung you get a cornucopia of things twiddle. How do you want to unlock your screen? You can have face unlock, pattern unlock, PIN unlock, password unlock, face and voice unlock or… hey.. perhaps just good 'ole swipe unlock. Oh, and you can turn it off if you want too. You can add widgets onto your lock screen (just in case you want to see some regularly-used widgets without unlocking) and you can even tweak the effect you see when you unlock.
I could go on. Believe me, three paragraphs about the settings isn't enough. There's so many options to tweak that it really can make it your own. There's a Daydream mode to set, so you can control what happens when the phone is sleeping or in a dock, you can change the font type, font size, how long the touch keys light up for, whether to automatically edit images after getting a screen-grab, whether to show a percentage next to the battery meter, the screen mode, brightness and your notification panel. The notification panel can then be further tweaked to show only the quick settings that you'd like to use the most.
Doah. I told you didn't I? Three paragraphs truly isn't enough. There's also options for your sound (ringtones, vibrations, notification sounds and more) plus there's even an "Adapt Sound" option which helps you find the best sound to play when you're playing music. You can then twiddle the home screen "mode" too, switching it to an "easy" mode that might perhaps suit children, the elderly or people who want a simpler experience.
Gah! I could get lost in these settings for days, seriously. It's an insane amount of knobs and buttons. I feel like the pilot of an Airbus. There's call settings so that you can set your video call image, whether to increase the volume when the phone is in your pocket, whether to reject calls automatically, internet calling, a blocking mode, driving mode, power-saving mode and even a Safety Assistance system which snaps pictures from both cameras when your'e in an emergency situation. It'll then, if you hold down the up and down key for three seconds, send these pictures to your pre-defined contacts at an interval set by you.
Five paragraphs now. I'm still not finished. There's language settings, motion settings and gesture settings to let your control your phone by touching the screen with your hand. Add to that all the "Smart stay" tech (which keeps the screen on when you're looking at the phone – great for reading) and you're…. wait.. I forgot Voice control. That's in there too. If S Voice is your thing (that's the in-built voice recognition / Siri-esque feature), then you can use the Voice control feature to send commands to your device just by talking to it. Immense.
The browser is nimble and quick, offering up the usual bookmarking, zoom and sharing features. It'll ensure the webpage text is rendered nicely when you double-tap and, as usual, you're free to install other browsers if you wish. Again, it's the little surprises I liked here. First up, I loved the Smart Stay feature when browsing. This kept my browsing session going without dimming the screen provided that the front camera could see my eyes. Also I liked the fact that the browser detected pages that I frequently visited and suggested I make them my new homepage. It's helpful, and it stayed on the right side of obtrusive.
A range of Samsung apps are included on the S4 Mini and, at times, it did feel like a battle between the Samsung and Google offerings. Google has a book store, so does Samsung. Google has a video store, as does Samsung. Samsung have made their offerings go front-and-centre and, whilst they all work very well, it's also a way to get you pulled into the Samsung cloud. Once you've got a Samsung account and you've grabbed some books, you're kinda tied into the Samsung way of doing things. That said, the Samsung apps are pretty good.
That 1.7GHz dual-core CPU might be a "step down" from the S4, but it really doesn't show. Browsing is quick and nimble. Pages render fine, the gallery opens quick enough and other tasks pretty easily indeed.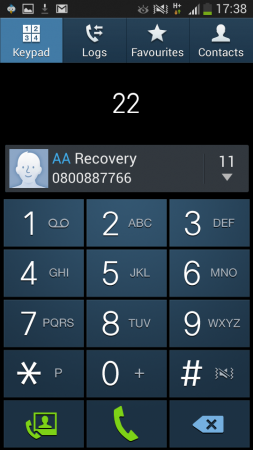 While I'm here, I'd just like to point out another little tweak I like. When a call comes in, it displays the actual area. So, if you see "0121" it'll flash up "Birmingham". If it's "01827" then it'll show "Tamworth". Love that. That's such a nice little touch. I like how missed calls pop up with a big green phone symbol and a message saying "Call back?" One hit. Boom.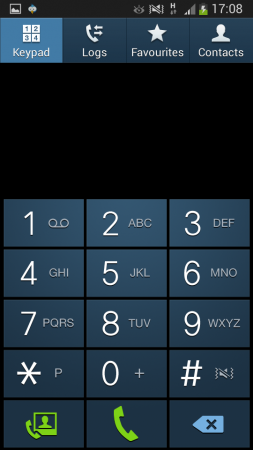 The TV remote system works very well and it's easy enough to setup. You just choose your TV model and it'll then setup your set pretty easily by an almost trial and error system. Choose "Samsung" and it'll then ask you to try changing a channel. If it doesn't work, you just hit "next" and it'll try a slightly different Samsung code. Before you know it, you've got a full TV listing system with details of the show and a help system guiding your through the "WatchOn" app which facilitates all this.
Camera
There's a range of camera modes, ranging from Night mode, sports, beauty, continuous, panorama and HDR. I tended to keep the camera set to HDR most of the time. This seemed to produce the best shots if I'm honest. A timer mode and you can use voice commands to fire off a shot too.
Here's some example shots direct from the camera. The gallery system separates images, screenshots and downloads, plus it'll sync with your Dropbox account and, using a finger-pinch, you can reorganise the way images are displayed on screen.
Conclusion
Can't fault it. When you're reviewing a handset and resort to having a pros / cons list which is so unbalanced, you've either got a very good phone or a very bad one. Currently I have a "con" list which has this written on it…
"Sometimes I think that the IR port is the 3.5mm audio port if I'm not checking properly".
That's a VERY weak list. To be honest this is yet another Samsung handset with enough specs and settings to keep you happy for a long time. You can set this phone up in just the way you want. It can become your phone and, if I'm honest, you're not losing a great deal by buying this instead of the larger S4. It's a crackin' little handset and, really, I shouldn't call it little either. It's beautifully styled, extremely well thought-out and terrific to use. Highly, and I mean highly, recommended.
Samsung Galaxy S4 Mini
Design - 9.1
Price - 8.3
Speed - 8.1
8.5
Yet another stunning handset from Samsung, with enough tricks and gear to keep you happy for a long, long time.