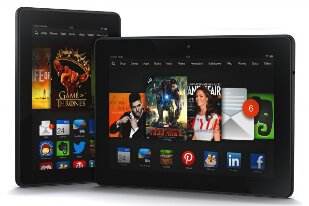 Amazon has announced two new Kindle Fire HDX tablets, one with a 7-inch 1920×1200 screen and another with an 8.9-inch 2560×1600.
These screen sizes and resolutions are enough to give Google's Nexus tablets a run for their money, and their 2.2GHz Snapdragon 800 SoCs and 2GB of RAM should represent a substantial performance upgrade over the Texas Instruments SoCs in last year's models.
There is also thickness and weight reductions over their previous tablets. The 7-inch model is now 0.35 (8.89mm) inches thick and weight 10.7 ounces (down from 0.41(10.41 mm) inches and 13.9 ounces) and the 8.9-inch model is 0.31(7.89 mm) inches thick and weighs 13.2 ounces (down from 0.35 inches( 8.89mm) so they are a bit thinner and lighter then
Dual-band, dual-antenna 802.11n and front-facing cameras come with both tablets, while the 8.9-inch model also picks up an 8MP rear camera.
As ever all the devices use the Amazon ecosystem Amazon's newly-christened Android 4.2 fork, Fire OS 3.0 (codenamed "Mojito"), comes with new features but continues to shun Google Play and its apps and media libraries in favor of Amazon's (while I can download a Kindle app on my Nexus 7, I can't get to Google Play or the Nook or Kobo book libraries on a Kindle). The new operating system most prominently includes a new e-mail client, upgrades to Amazon's Silk web browsing engine, and a new "Mayday" button that promises real, in-person tech support within 15 seconds of being pressed.
When asked if the company would be updating any of its previous tablets with the new software, an Amazon spokesperson told us that the company had no specific information to share, but that Amazon has "a long history of bringing new features to previous devices whenever possible." hopefully older devices won't be left in the cold this time around.
Both HDX tablets are available in 16GB, 32GB, and 64GB capacities. The 7-inch HDX model starts at $229 and will start shipping October 18th, and the 8.9-inch model starts at $379 and will start shipping November 7th. Last year's 7-inch 1280×800 Kindle Fire HD tablet will still be sold with Amazon's new operating system and a slightly faster 1.5GHz OMAP4 SoC starting at $139 for an 8GB model—this upgraded model goes on sale October 2nd. All three models can be pre-ordered from Amazon starting now, but no news on UK release dates. ..