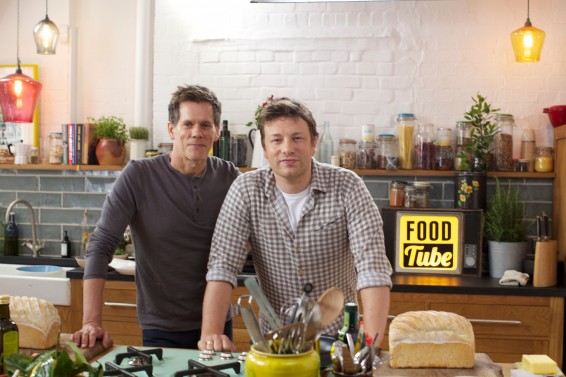 In a new campaign highlighting the benefits of EE's superfast 4G network Kevin Bacon has been pitted against Jamie Oliver in a bacon sandwich making competition to be shown exclusively on the celebrity chef's Youtube channel.
The video sees Hollywood A-lister Kevin Bacon challenge top UK chef and TV personality Jamie Oliver to a 'bacon-sarnie off'. The stars stand side by side in Jamie's kitchen to do battle over bacon, bread and condiments and it looks like Jamie's going to wipe the floor with Kevin until he starts to 'buffer'. The audience watch as an all too familiar buffering wheel obscures Jamie.
Spencer McHugh, Director of Brand at EE, said:
"This unique partnership with YouTube is a first for us and demonstrates one of the key benefits of our network – a far superior video streaming experience with less buffering. The mobile internet speeds and breadth of coverage we offer across the UK remain unrivalled and we're always looking for innovative ways to communicate the benefits of our network online."
Hamish Nicklin, Head Creative Agency partnerships at YouTube, said:
 "With around 40% of YouTube views in the UK coming from mobile devices, speed is integral to our users to be able to watch whatever content they wish, whenever. YouTube partners such as Jamie Oliver have a loyal and passionate audience that really engages with the content. By partnering with them, brands are able to tap into these passionate fans to extend their message."
Jamie Oliver said:
"Working with Kevin was such fun. He's a legend and a great guy. To have the film exclusively on Food Tube is also brilliant so I'm hugely grateful to EE for their part in this collaboration".
The video can be seen on Jamie Oliver's Youtube channel from today.