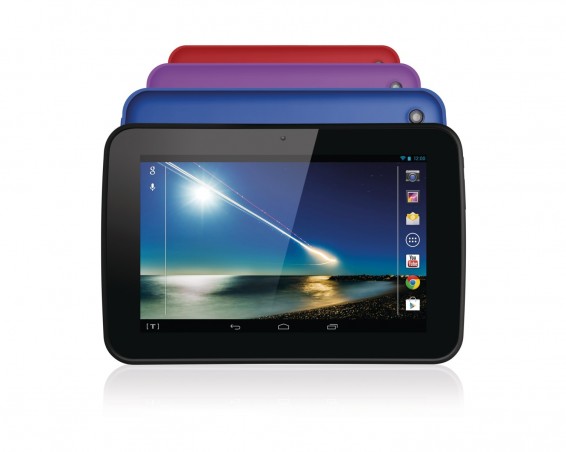 Supermarket behemoth Tesco has today announced that it is to start selling its own tablet, known as the Hudl.
The device, a 7″ HD screened tablet is to ship with Android 4.2.2 (Jellybean), will sport a 1.5Ghz Quad-core CPU and will have 16GB onboard storage which will be expandable up to 48GB.
It will be available in blue, black, purple and red and will sell for £119 both instores and online.
The tablet will run what looks like stock android and will have access to the full suite of Google services.
Tesco will hope that the budget tablet will become a content delivery system providing access to their Clubcard TV service as well as the Blinkbox video and music streaming service that they acquired last year.
Tesco Chief Executive, Philip Clarke said
Hudl is a colourful, accessible tablet for the whole family to enjoy. The first stage in our tablet offering, it's convenient, integrated and easy to use with no compromise on spec. Customers are quite rightly very discerning about the technology they buy so we knew we had to be competitive on all fronts."

 Being online is an increasingly essential part of family life and whilst tablets are on the rise, usage is still quite limited. We feel the time is right for Tesco to help widen tablet ownership and bring the fun, convenience and excitement of tablets to even more customers across the UK. The digital revolution should be for the many, not for the few.
The full specs are as follows:
7" 1440 x 900 HD screen
Android Jellybean 4.2.2
16GB storage which can be expanded to 48GB with microSD cards.
Quad-core 1.5GHZ processor
9 hours video battery life (Conditions may vary dependent on video format and content, audio volume, screen brightness and processor load)
Micro-HDMI port
Bluetooth 4.0, GPS
Dual band Wi-Fi for a more stable connection
Access to over a million apps via Google Play™
Comes in 4 colours: black, blue, red, purple
Wi-Fi only
Sleek, high-quality design, with a durable, matte, soft-touch back for better grip
Scratch resistant touch screen
'Getting started' app that offers tips and guidance