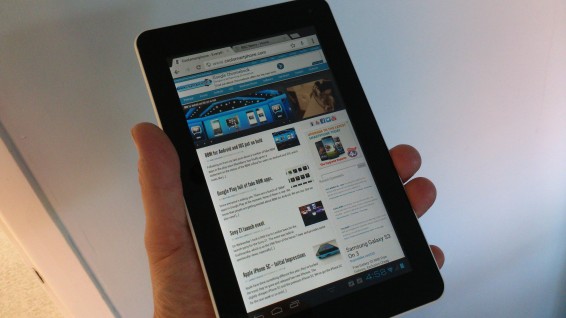 Don't get me wrong, I love writing reviews, but of the large quantity of Android phones on my desk I was quite happy to at last see a tablet.
The MediaPad is, for me, a perfect size. It's easy to hold with one hand and weighs about the same as a paperback book. I'm a big fan of tablets that you can hold easily with one hand, so things are starting well already.
It looks rather lovely too, and has a tough but stylish appearance thanks to the rubberised sections at the rear. The screen, which (of course) is 7″, has a resolution of 1024×600 and runs Android 4.0.3.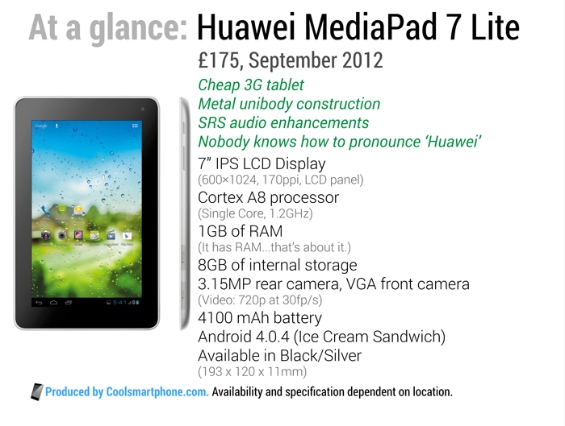 The full specs are as follows..
Camera – 3.2 megapixel at the rear, 0.3 megapixel up front
Measurements – 193 mm x 120 mm x 11 mm
RAM – 1GB
Flash memory – 8GB
MicroSD – Up to 32GB
CPU – Cortex-A8
Connectivity – WiFi 802.11b/g/n / Bluetooth 3.0
Battery – 4100mAh
Around the device
The front of the device is the standard black with the front camera on the top right. There's a lot of border yes, but not too much to make it look like one of those ultra-cheap Chinese tablets you might see kicking around on eBay.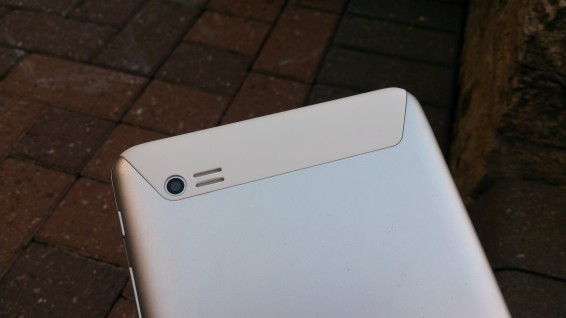 The edges are rounded and there's a white rim around the front edges of the tablet.
The rear panel has two white portions and the top and bottom, presumably for some protection and also for styling. The bottom part has the microUSB port for the usual connectivity and the 3.5mm audio port. Up top there's nothing at all on the edge but you do have that 8 megapixel camera and an external speaker. No flash here.

The right edge is perhaps the busiest, having two flap-covered ports for the microSD card and the standard SIM. Up top you'll find the volume up / down and power key for waking the device. It's a matt silver finish and has a quality feel.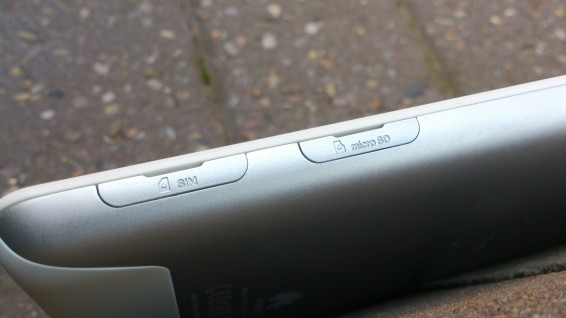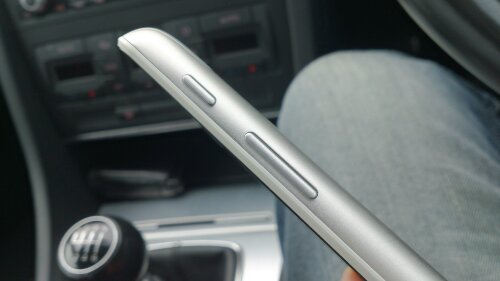 Overall, it's just the right size. I can actually slot this into my rear jeans pocket and it felt sturdy enough to carry around without a case, even though I'd of course recommend one 🙂
Hands-on video
We always do a quick hands-on, so here's me in the car doing the usual magic 🙂
Here's a follow-up we did, just to show you another look..
Inside

It's thankfully stock Android in here and HUawei really haven't played around with the OS to any real degree from what I can see. There's a bright and colourful background picture which, like pretty much everything on this device, you can change. All the usual Google services come as standard and you can get your mail, contacts and diary synchronised with the cloud easily.
DLNA is here, so you can beam your favourite media to your TV screen if it's kitted out with the necessary wizardry. You also have, yes, a phone inside here. Whether you're confident enough to hold a 7″ slab against your ear is another thing, but it's here if you need it.

If you need to open any Office documents, Kingsoft Office does a decent enough job of letting you open and edit documents from the device. The standard keyboard lacks any sort of Swype-style interface, so you either resort to using two thumbs or install a new keyboard.
I tell you, I'm struggling a bit to pick anything out with the OS or the apps installed. It's all kinda OK. I do wish the OS was a newer version but there's a slightly larger problem I've not even mentioned yet.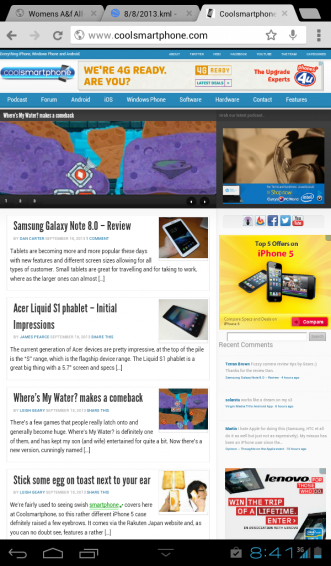 Sadly, within minutes of playing with this particular device I found that the "Lite" part of the name didn't relate to the 370 gram weight. The CPU is advertised as a "Cortex-A8". That alone should set the alarm bells ringing – I'm never happy when a CPU speed isn't mentioned. We clocked it running at a flat 1GHz although the chip itself can actually go to 1.2GHz. Browsing fairly chunky websites resulted in lag and jutter rather than a swift response, which was a real shame. This sits at around the same price as the all-new Google Nexus 7 (2013 model) and I was hoping for a bit more from the OS.
Overall
Inside this tablet you'll find Google Books. This, plus a few apps, is about as much as this particular tablet can do. The 1GHz CPU really struggles with browsing especially. I found that nearly every website I went to struggled to render in any sort of acceptable time. It was almost painful to browse at times and this hopefully shows up in the overview video.
Good looks, great build. All the stuff I've grown to expect from Huawei, but sadly the CPU is just a little too slow for me.
Huawei MediaPad 7 Lite
Design - 8
Price - 7.8
Speed - 1.1
5.6
Great looks, great design, but sadly too slow.