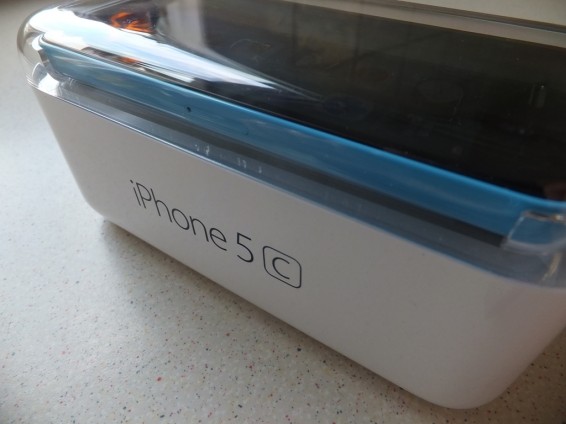 Apple have done something different this year, they've bucked the trend, they've gone and released two new iPhones. The slightly cheaper iPhone 5C and the premium iPhone 5S.
We've got the iPhone 5C for the next week or so and to start things off here are our initial impressions. Starting with good and bad points.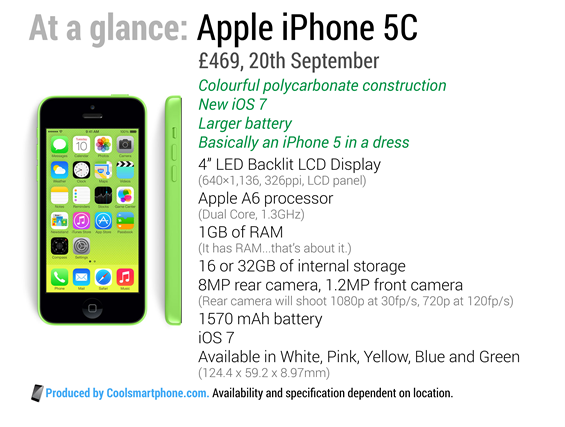 Good Points
Build Quality

Ecosystem

Camera

Sound quality

Range of colours
Bad Points
I find the 4″ size just a little bit small

Feels really quite slippy in the hand

iOS 7 is a little disjointed at the moment
Design
According to Jony Ive the iPhone 5C is "beautifully, unapologetically plastic" which I'd agree with, what he does neglect to add that it is also rather reminiscent of various Nokia Lumia devices, some of which have a very similar style of casing. But that wouldn't work well in one of their adverts or during the keynote.
The iPhone 5C is a great looking piece of kit, with all of the buttons and ports as you'd expect from an iPhone, it's just that they're made of plastic. It's not just any plastic either, it's a steel reinforced polycarbonate shell. The iPhone 5C really feels solid, no flex, no creaks, just the omnipresent silence of solidity. Take a look at these photos of the 5C.
Hardware
The iPhone has pretty much the same spec as the last years iPhone 5, but being the lower spec device it is nothing but expected.
Display – 4" 1136×640 resolution at 326 ppi, LCD IPS, fingerprint-resistant oleophobic coating on front

CPU – Dual Core 1.3 GHz Apple A6

GPU – PowerVR SGX 543MP3

Network – UMTS/HSPA+/DC-HSDPA/LTE

Camera – 8 MP, ƒ/2.4 aperture, Backside illumination sensor, Five-element lens

Video Camera – 1080p HD video recording, 30 fps, 3x zoom

Front Camera – 1.2MP photos (1280×960), 720p HD video recording, Backside illumination sensor

Sensors – Three-axis gyro, Accelerometer, Proximity sensor, Ambient light sensor

Internal Memory – 16 or 32 GB

RAM – 1 GB

SIM – Nano SIM

Bluetooth – 4.0

Battery – 1510 mAh Li-Po

Dimensions – 124.4 x 59.2 x 8.97 MM

Weight – 132g

Colour – White, Blue, Green, Yellow, Pink

OS – iOS 7.0.1
Highlights of the spec are the camera, the internal memory and the screen. The screen is small, but the pixel density
Software
Running iOS 7 the iPhone 5C runs an OS as colourful as the shell on the device, out of the box the iPhone 5C has accent colours to match the colour of the shell.
As iOS7 has only publicly been available for a few days it is expected that there are a few bugs, I was expecting the worse as no end of people are complaining about bugs, but these seem to be users with older iPads or iPhones. Using the iPhone 5C I haven't seen any problems yet, all I have seen is a mish mash of apps that haven't yet updated to iOS 7 styling, so you keep jumping between nice looking apps and not so nice looking apps. This will no doubt be fix when developers update their apps.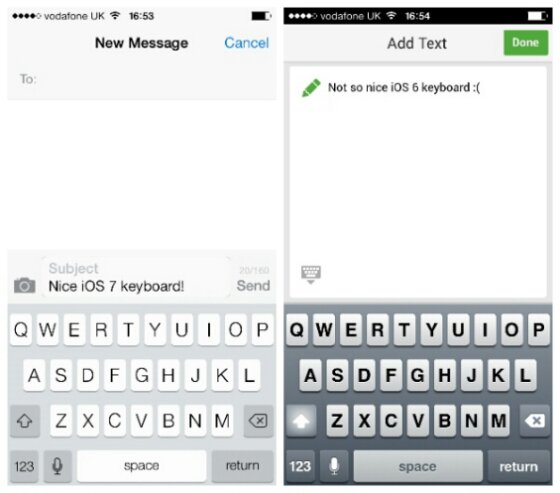 Having spent a lot of time using Windows Phone and Android, whenever I set up an iOS device I always miss social media integration in the contacts app, the lack of contact images always used to really grate with me, with iOS 7 the contacts app does at least now pull in Google Contacts pictures.
Initial Conclusion
As is often the way when you unbox a premium device you're amazed by the quality of it or the way it looks. With the iPhone 5C I really was impressed opening it up. Apple have used a really really good quality polycarbonate, it feels as good as the Lumia 920. A few things have really impressed me though, the camera is really great, sound quality listening to music is good and the app offering is ludicrously expansive.
As some of you may remember I've not used an iPhone for a few months now, so the jump to a larger iPhone compared to the 4S I had and also iOS 7 has been a fun experience. This is just my initial impressions so we'll bring you the full review in due course, so if you have any questions leave them down below.
Lastly a quick thanks to Vodafone, if you're interested in the 5C on Vodafone head over here