Since Google decided that they were going to kill off useful services like Reader I've been relying upon two services, one of which is Feedly and the other is Nextgen Reader for Windows Phone. Nextgen Reader is an RSS aggregator that syncs with your Feedly account, which allows me to keep track of news regardless of which phone or tablet I've picked up. This afternoon Nextgen Reader for Windows Phone has had an update bringing some new features.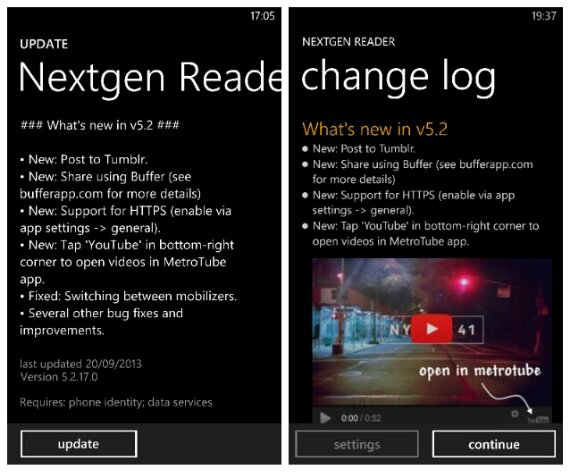 Change-log:
• New: Post to Tumblr.
• New: Share using Buffer (see bufferapp.com for more details).
• New: Support for HTTPS (enable via app settings -> general).
• New: Open YouTube videos in MetroTube app (tap 'YouTube' logo in bottom-right corner).
• Fixed: Switching between mobilizers.
• Several other bug fixes and improvements.
Buffer basically is a service that allows you to share a link to several interesting articles in one fell swoop as opposed to sharing them individually, head over to http://bufferapp.com/ for more info. It sounds quite interesting to me, unlike anything I've tried before so it looks like I've got something new to try out this weekend. If you have not tried Nextgen Reader just head over to the link below.
Windows Phone Store Link – Nextgen Reader