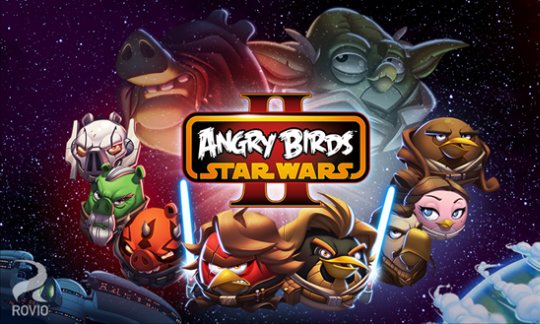 Can you bear to play Angry Birds ever again? If yes your next few days are going to be rather busy. Yesterday Rovio released the next installment in the Angry Birds saga.
As per the norm with Rovio the gone all puntastic with their explanation of the game, with such well thought out gems like
"JOIN THE PORK SIDE!"
But what does interest me is the range of new characters, you can play as the pigs, Darth Maul, Darth Vader, General Grievous, Yoda, pod-racing Anakin, Mace Windu, Jango Fett and many more!
What doesn't excite me is something called "TELEPODS" which are plastic characters you place over the devices camera and somehow you can play the game differently having paid extra for these pieces. No doubt these won't be cheap.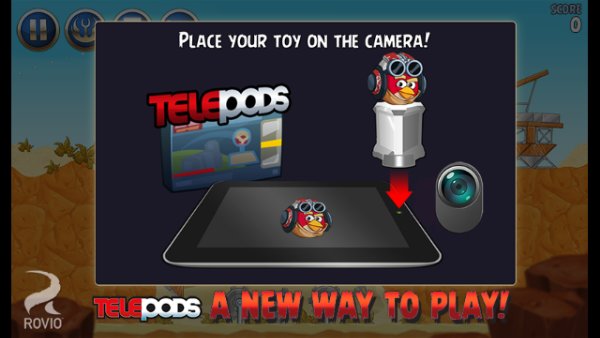 Here are some screenshots from the game, believe it or not I am actually going to install this because I don't think I've played enough levels of Angry Birds.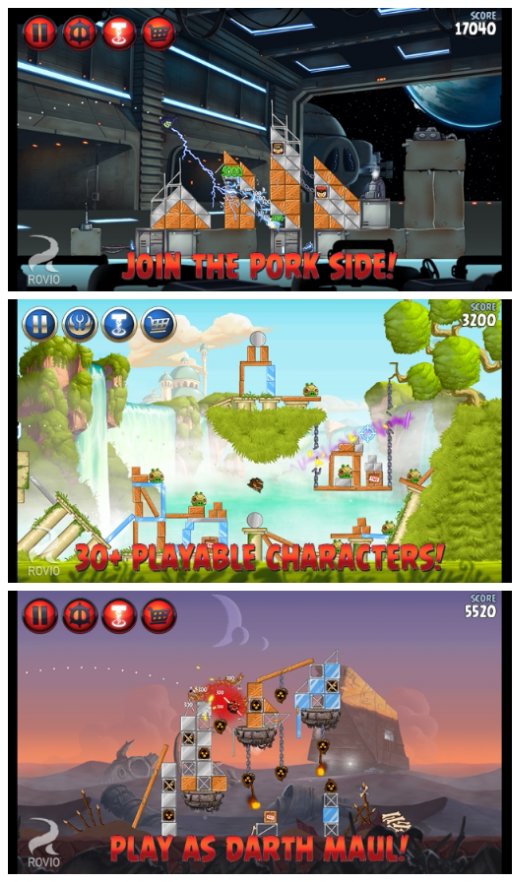 Rovio have made this game trailer to show you the highlights of the game.
Description
The Force is strong with this one. Get ready for Angry Birds Star Wars II – the epic follow-up to the #1 smash hit game! Based on the Star Wars movie prequels, use the Force for good against the greedy Pork Federation or choose a much darker path. That's right; for the first time ever you can "Join the Pork Side" and play as the fearsome Darth Maul, Emperor Palpatine and many other favorites!
JOIN THE PORK SIDE! For the first time ever play as the pigs! Wield Darth Maul's double-bladed Lightsaber, or play as Darth Vader, General Grievous and other villains!
30+ PLAYABLE CHARACTERS! Our biggest line-up ever of playable characters – Yoda, pod-racing Anakin, Mace Windu, Jango Fett and many more!
TELEPODS! A groundbreaking new way to play! Now teleport your favorite characters into the game by placing your Angry Birds Star Wars Telepods* figures on your device's camera!
BECOME A JEDI OR SITH MASTER! So many Bird and Pork Side levels to master, plus a bonus reward chapter and a ton of achievements to unlock!
SWAP CHARACTERS AS YOU PLAY! Switch characters in the slingshot at any time – yours to earn or purchase!
ToonsTV READY TO GO! The home of the hugely popular Angry Birds Toons animated series, plus many other top-quality videos!
Angry Birds Star Wars II also supports tablet devices, so you can unleash the Force on the big screen. May the birds be with you!
The game is available on the three main platforms on the links below.
Angry Birds Star Wars II is now available on Android, iOS or Windows Phone