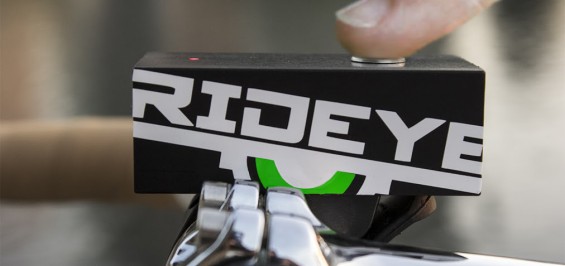 Yes, it's time for your daily dose of Kickstarter action. This time it's my beer fund. If you choose to invest, you'll get no return on your money but you'll be able to read some really long and rambling news articles. Yay.
No, seriously, it's this – the Rideye. It's like those in-car security camera systems that some American cars have. This will continuously record HD video on a never-ending loop and, if you have an accident, it'll record the critical pre-crash video. Insurance companies can use this video as evidence and you can have a fish around on Amazon if you want one for your motor. They're not badly priced either.
This, though, is for bikes. I've been doing quite a bit of biking this summer and have been pretty impressed with how fit you can feel by tearing down some canals and around local beauty spots. However, when you hit the road there's a whole host of dangers. As a motorist I've been guilty of not liking cyclists that much, but after spending more time on a bike it's a massive eye-opener, and this device will record the moments before a crash. Think of it as a black-box recorder for your bike.
It's made from aircraft-grade aluminium and has a battery that should last a month based on a daily one-hour commute. If you're interested, you can invest on Kickstarter or hit Rideye.com.
Rideye: The Black Box Camera For Your Bike

After friend is injured in hit-and-run bike accident, engineer develops world's first bicycle safety camera.

Rideye is a groundbreaking product for cyclists that records HD video in a never-ending loop, with crash detection sensors to save important files, a battery that lasts a month under normal use, and is built from bulletproof materials.

Cedric Bosch developed Rideye after his friend Will was injured in a hit-and-run accident that left him unconscious on the side of the road with no witnesses and no proof of what happened.

Rideye is designed to keep cyclists safe on public roads by continuously recording HD video of your ride.

It has crash detection sensors to save critical video files, and a battery that will last a full month given an hour-long daily commute.

Rideye features one-touch operation and records in a never-ending loop, saving the last hour of video, so you never have to worry about the memory being full.

It is made from rugged CNC machined aircraft grade aluminum with beautiful, bullet-proof Lexan inlays, and looks amazing on your bike.

Rideye will retail for $149, but Kickstarter backers will be able to pre-order Rideye for as low as $99