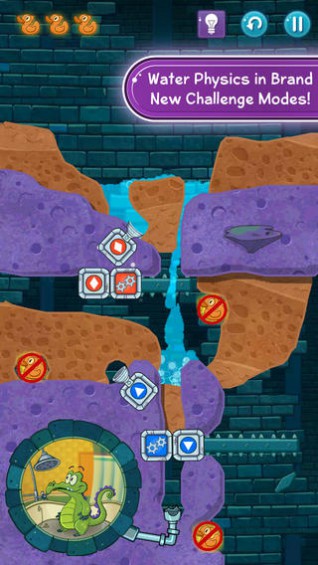 There's a few games that people really latch onto and generally become huge. Where's My Water? is definitely one of them, and has kept my son (and wife) entertained for quite a bit. Now there's a new version, cunningly named "Where's My Water? 2".
Oh and get this, it's free. Not only that, but it's available for iPhone, iPad, Android (we can't find the listing just yet) and …. drum roll please…. Windows Phone 8.
The new version has new locations to play with, and you can dive into the Sewer, the Beach or the Soap Factory.. It's a simple idea – you just need to guide the fresh water down and help out Swampy by cutting through the dirt.
Full introduction video below, and apologies to everyone downloading it for the game consuming all your lunch break for the next week 😉
Play 100+ levels and challenges with a brand new look in the Gator universe featuring Swampy, Allie,
Cranky, and Mystery Duck!

Introducing 'Challenge Modes' to replay the levels in explosive new ways!

Dig as fast as you can and get as many duckies as possible in 'Duck Rush' levels!
'Tri-ducking' is now faster, better and more fun with boosts, such as Vacuum, Dropper, and Absorber!
Small fees may be required for these additional boosts.

Connect through Facebook and see if you can beat your pals on the adventure! (only for iPhone and iPad)

Experience fun mechanics that are uniquely designed for each character!

Complete achievements and earn special themed duckies such as gladiator-duckie, astronaut-duckie, hula-duckie, and many more!

Stuck on a level? Use hints to help you solve the puzzles!