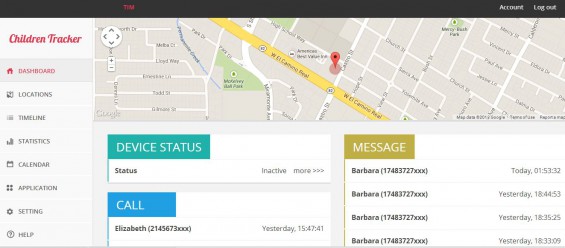 Well now, this seems rather good. I'm always banging on about how easy it is for kids to access stuff they really should be accessing. A quick search of YouTube will easily reveal a whole host of videos that haven't been flagged as inappropriate, even though they are, and kids can easily view other content which isn't age appropriate.
So, this app has a simple premise. It'll track your childs location, texts, browser history, WiFi connections and messenger apps. It's really easy to use. You just install the app on their device and it'll sit quite happily in the background. You then do the monitoring via a web interface and you can easily see what your child is doing on their phone and where they've been via the GPS location. Everything can be remotely controlled and, if you're a busy parent who doesn't have time to continually login, you can get a daily email report showing the activities that were undertaken.
Once you're in the web interface you can name each handset and see what applications are installed on the phone, what texts have been sent and received, plus what calls have been made. It's the ideal solution if you're concerned about your child and want to keep an eye out for them. Best of all, it's just out of beta and it's free for 7 days, so hit the Google Play listing and check their website for pricing. Currently it's only £2.51 for three months worth of monitoring, but you get a discount for signing up for longer. A great solution, although Android only at the moment.