Earlier this year we were lucky enough to buy a brand new car.  All bright and shiny it chugs along nicely doing 45 miles to the gallon taking us wherever we wish to go.
When making our decision which car to buy we took many factors into account. Unfortunately and rather foolishly the inclusion of bluetooth or an aux in connection was not on the list of factors.
This means that in order to connect my Nexus 4 to my stereo I have to resort to either buying a new car stereo with bluetooth / aux in built in, purchase an expensive Parrot kit or use an FM transmitter.
Thanks to the guys over at Mobile Fun I have managed to get my hands on the Car Audio FM Transmitter for Smartphones.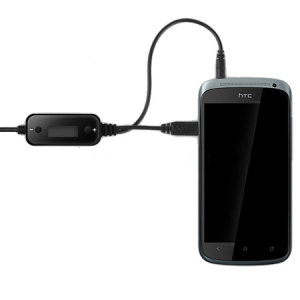 The packaging on the FM transmitter is basic, it is an unbranded piece of kit that comes with instructions that whilst english is provided are primarily in chinese although to be fair it is not exactly difficult to work out.
The device is a one piece affair with 3 cables.  One plugs into your USB charger and provides power to the device, one plugs into the microusb port of your handset and the other plugs into the 3.5mm jack of your device.
Build quality is solid, the cables don't feel in the least bit flimsy and the connections do not feel as if they are about to give way at any moment as with many products of this ilk.  The frequency is shown on an LCD display that is backlit in blue.
Power to the FM transmitter is provided via the USB connection (meaning that you must have a USB adaptor in your car in order to use it) which is  then passed through to your handset and provides a charge at the same time.  This is a nothing but a useful feature!
Setting the transmission frequency is a manual affair and whilst there are no presets or memory positions the transmitter does remember the last frequency upon which it was used.  The issue with having no presets is that frequency changing must be completed step by step manually, an act which is probably illegal whilst driving.
Operationally the unit is flawless.  Whilst it will win no awards with audiophiles, the sound quality reproduced is good even at high volumes and changing frequencies is a doddle.
Overall the FM transmitter is easy to operate, well built and gives out sound that is more than acceptable and for the relatively low cost of £14.99 it represents good value for money that has provided a simple solution to my smartphone to car stereo issue.