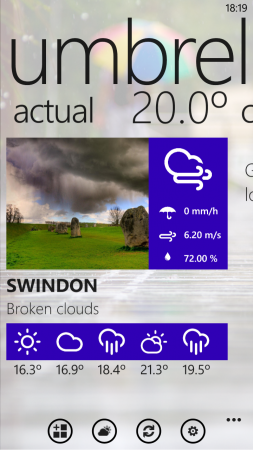 One type of app that there seems to be a never ending supply of, on every platform, is weather apps. Some are better than others and some stand out. Umbrella 8 is a weather app for Windows phone that falls into the later category.
Lots of apps illustrate the weather forecast with symbols and some enhance that with pretty photographs, but Umbrella 8 takes it a bit further. By using your location and Flikr, it provides real pictures of the type of weather at your actual location (rather like a window does in real life).
The weather functionality is good with a summary screen of current conditions and the next few hours to start off. Click through that you get more detail and swipe to longer term forecasts.




 All of these screens have the background of the Flikr images I mentioned, and these are also shown on the Live Tile for your front screen.
The Flikr integration does actually lift the app above the crowd for me. It's particularly good in scenic locations and shows some excellent photography that you might not otherwise have seen.


It's only real drawback is if you work somewhere like say Bracknell (where I do!) – you'll get pictures of where you are. :-/ Sometime's it sympathises though, and just shows you some rain instead!
All in all though, great app that I'd recommend. At first I thought it was a bit of a gimmick, but after only a short time of using I really liked it – it has become my only weather app now.
Oh, and did I mention it's free? Go get it now from the link below.
Link – Umbrella 8 in Marketplace