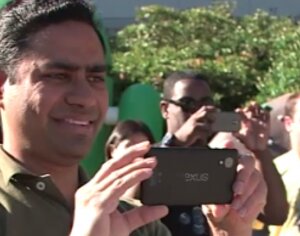 If you watch the unveil of the KitKat statue (if that's the right word for it), someone at the Googleplex was spotted using an unknown Nexus branded device. That device was presumed to be the Nexus 5 and now it's arrived at the FCC for regulatory approval. Luckily for us, plenty of details are spilled within the report. Oh, and lucky for LG, it was approved with flying colours!
Neither Google or the FCC call this the "Nexus 5", but they wouldn't would they. However, it does looks very close to the smartphone shown off in the Google video. If it isn't the Nexus 5, then LG has another powerful flagship up its sleeve.
It features Qi wireless charging capabilities inside of the back cover, which is the same as the Nexus 4. You also have LTE bands (unlike the Nexus 4), Bluetooth 4.9 NFC and of course, CDMA / EVDO rev A, pentaband DC-HSPA+ and quadband GSM / EDGE.
The FCC documents further reveal a 4.96″ display, hence the Nexus 5 name maybe.
Now that Nexus 4 stock is beginning to dwindle and Android 4.4 KitKat has been announced, the Nexus 5 doesn't seem too far off. The Nexus 4 was announced in late-October last year, so we're guessing that the same will happen within weeks for the 5. We'll keep you posted.
Source – FCC
Via – Pocket Lint