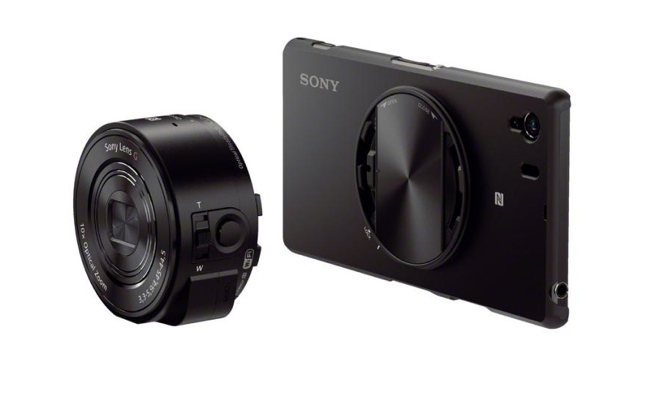 There's been just as much talk about the Sony DSC-QX10 and DSC-QX100 Smart Shot camera attachments as there has been about their new flagship phone, the Z1 (formally the Honami i1). This is mainly due to their innovative nature, but also speculation on how exactly one would use such a device.
We need wonder no longer, as a rather charming official Sony video has leaked showing a guy taking photos with one which it would be impossible to do with a 'normal' camera or phone.
First he simply takes the lense attachment out of his pocket and holds it up to the phone, it seems to pair automatically and turns the Smart Shot on before he immediately takes a photo. Not all that impressive, although it does show how quick it should be to go from phone to Frankenstein's camera.
Next he falls over and sees a cat through a hole in a wall. Once again he pairs his lense, but this time he holds it through the hole in one hand whilst using the phone as a viewfinder in the other. Neat trick.
Then some dippy woman gets various colours of ice cream on his fetching white shirt. Rather than hurling abuse at her and demanding she pay the dry cleaning bill he whips his Smart Shot out, pairs it and takes a photo of his ruined shirt by once again holding the Smart Shot in one hand and his phone in the other. Much easier than using the front facing camera, right? Errr… OK moving on.
It seems that our hapless hero isn't the only person who's splashed out on an expensive gimmick though – the geek/chic ice cream attacker has a QX-100 on the back of her phone. Hers is better though, because she's got the phone case attachment (shown at the top of this article). Nonetheless, love then blossoms and they are left to in the heavenly position of being able to take high quality 'selfies' to send to each other when they're apart.
http://www.youtube.com/watch?v=HKGEEPIAPys
We also get a quote from Patrick Huang, director of the Cyber-shot business at Sony:
With the new QX100 and QX10 cameras, we are making it easier for the ever-growing population of 'mobile photographers' to capture far superior, higher-quality content without sacrificing the convenience and accessibility of their existing mobile network or the familiar 'phone-style' shooting experience that they've grown accustomed to. We feel that these new products represent not only an evolution for the digital camera business, but a revolution in terms of redefining how cameras and smartphones can cooperatively flourish in today's market.
I found that all rather heartwarming and will be putting down $500 for one as soon as they're announced. How about you?
Source – Apple Insider